Top 10 Digital Marketing Strategies for Your Beauty Salon
Are you working on your salon social media game? Need a strategy that can boost your sales and let you use your POS system for salon effectively? You can spread more awareness about your services if you know how to use social media to your advantage. By using the right digital marketing strategies for beauty salons, you can engage targeted customers and convert them into potential clients. Social Media Platforms like Facebook, Instagram and Twitter have become the main medium for customers to get in touch with businesses directly. 
To help you improve your game and stay ahead of your competitors, we have listed top 10 strategies that can help you transform your salon's digital marketing strategy and
Post Attractive Content for your Potential Customer
Use Facebook and Instagram as Key Communication Tools
Post your Client Pictures, and lots of them
Consider your Social Media Page as Your Miniature Website
Offer Exclusive Deals on Social Media Platforms
Focus on Targeted Ads
Keep Up With the Trend
Use Local Marketing as an Advantage
Use Before and After Pictures – Be Fun and Quirky
Share Live Stories and Videos
1. Post Attractive Content for your Potential Customers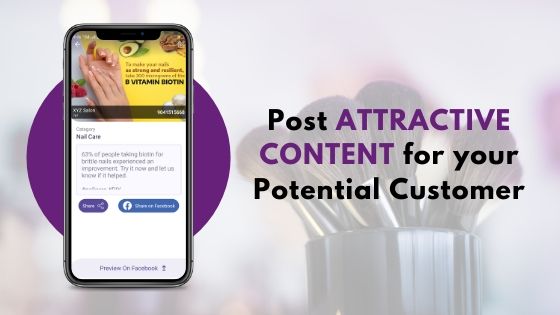 Any content on Social media should be interesting and catchy. You can entice your customers with catchy phrases, witty comments, and beautiful vibrant pictures. All this will lead to the customers craving more interaction and communication with your salon social media platforms. You should know your customers and post the content that they will find interesting and engaging. Just keep your brand theme in mind. 
Your posts can be informative, witty, funny or classy, everything works as long as your customers find it good enough to engage with. You can post facts, hairstyles, hair care tips, information or behind the scene photos that your target audience would find appealing. For example, for young and hyped target audiences you should go for posts with a modern feel and touch. If your salon theme is vintage, then you can post pictures and use filters that give a vintage touch to your pictures. You can check My Digi Salon – the complete salon marketing tool with high-quality images and ready-made social media posts.
2. Use Facebook and Instagram as Key Communication Tools
In this era, you will find anyone and everyone on social media. Salon Facebook marketing can be easily used to your advantage as a tool to engage customers. From sharing your hairstyles, nail arts to creating contests, you can use all this to create contests and giveaways It will spread brand awareness and loyalty. You just need to find the perfect medium that works for your salon. You can even take your salon bookings via these platforms along with your salon booking apps.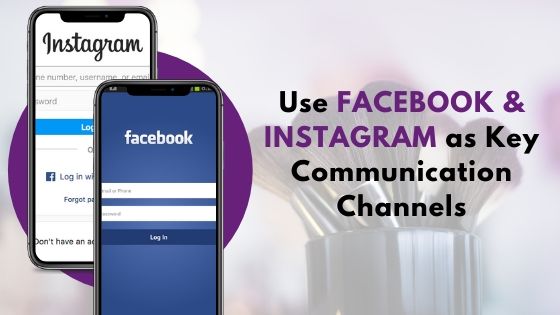 3. Post your Client Pictures, and Lots of Them
Social media is a visual medium and the best way to concur with this platform is by showcasing your work. You can post pictures of your outlet, stories of your team, your makeovers, part looks, hairstyles, nail art, manicure services, etc. instead of text-only posts. You'll get more likes and engagement on pictures. You can even tag your customers in your pictures. It will increase the chances of people reposting on their personal profiles. Thus, following the lastest hair salon marketing trends.
4. Consider your Social Media Page as Your Miniature Website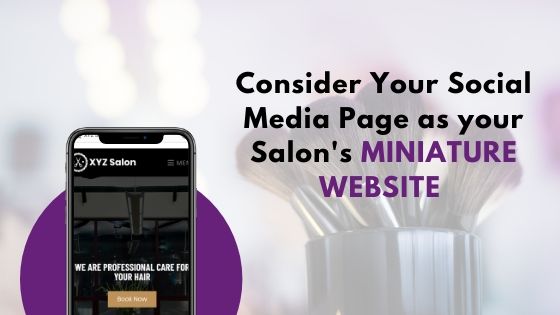 The moment a customer lands on your salon social media profile, he/she should easily find all of the information they are be looking for. Make sure your profile and intro are up to date. Information like store location, services, contact, etc, should be readily available. You can add highlights like reviews, best work, etc. on Instagram and albums with the same name on Facebook. Apart from that make sure you share articles and infographics on your platforms too. Attach links and call to actions or add button under your posts like " Call Now" or "Know More". This will ensure that your users can get in touch with you easily if they want to.
A Must Read: How to Get Customers for your Beauty Salon from Facebook
5. Offer Exclusive Deals on Social Media Platforms
You should work on the digital marketing strategies for beauty salons by offering exclusive deals for your social media family. Customers tend to like and follow a page more if they feel like they might get something in return. You can put stories with a coupon code on your Instagram and Facebook pages. You can run ads with special codes that target only x number of followers. It will give your users a personalized experience and create a loyal customer base online. When word gets out that a business is offering incentives or discounts for following a page, customers start referring to get exclusive deals. It will help you increase your followers quickly. 
6. Focus on Targeted Ads
Facebook and Instagram ads can help you reach out to potential customers faster than organic posts. You can set the demographics, interests and even choose an audience that has liked similar pages, it will help to narrow down your audience set and focus on hot leads that might like your pages. E.g. You can target people in Gurgaon within a 2.5 km radius of your salon, female, 18-30 age group. If you have your salon app (you should get one, if you don't) you can redirect these customers there. Try Digi Salon, You can find everything here. It is the best salon app for Android having a huge inventory of professional pictures that you can post on your social media channel.

7. Keep Up With the Trend
Following the latest trends is not enough, you have to make sure that it is reaching out to masses. This is where hashtags come in. You should use trending, appropriate and popular hashtags to draw more users to your Instagram profile and find out about your salon. For example #HappyDIwali is one hashtag to gain more views and with holiday-themed nail art while showcasing your salon's services. It is a great way to improve lead generation for beauty salon.
8. Use Local Marketing as an Advantage
How to market a beauty salon via location? You can either use hashtags or use the location feature, it will help customers to find out about your salon within your area. E.g. #SalonInDelhi will help people looking for a hair salon in Delhi to check your business profile. It is one of the top digital marketing strategies for beauty salons used by the experts.
9. Use Before and After Pictures – Be Fun and Quirky
Feedbacks on reviews are not just text-based now. You can post your before after pics of your work on salon's social media profile and ask your users to review them. Before and after client pictures are a great way to grab users' attention.
People enjoy fun, quirky posts on social media, you can use it to your advantage. E.g. struggles of a salon artist: you can make a series of funny posts about this.
10. Share Live Stories and Videos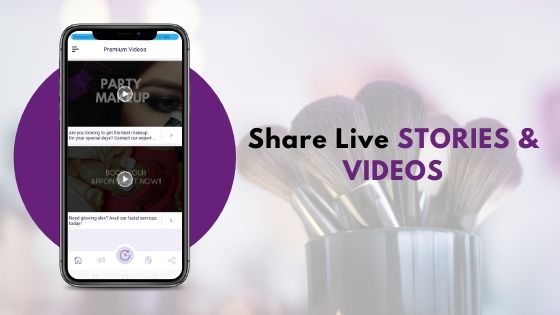 Live sessions are a great way to interact with your customers. Make sure you go live at least once a week or biweekly. You can do it while working. It will give users a behind the scenes glimpse. If you can get some experts or influencers to team up with you then you ask them to take over your social media for a day. It will improve your engagement drastically.
Conclusion
There are many more tips and tricks out there that can help you improve the digital marketing strategies for beauty salon and hence gain customers. You have to test and trial to see what works for you. If used properly social media can act like a powerful tool that can help you gain, retain and engage customers. Moreover, with your own app for salon such as My Digi Salon you can promote your salon business,