55+ Salon Marketing Ideas To Attract New Clients
Digital marketing has opened a huge portal for every business to reach its goals. But we often get distracted by things like the " Viral video concept" that we forget to build a solid base for a brand and dive right into accomplishing bigger goals.
While experimenting and trying new tricks is a must in marketing, it's never too late to perfect the basics. Salon Marketing is the backbone of your business growth and plays a major part in the success of your salon having all strategies in place.
With fundamental basics, you can never go wrong while building the foundations of your salon. These basics are the tried and tested salon marketing ideas that can be tweaked and improved according to our needs.
Salon Marketing Basics:
Visual Branding
Website and App
Social Media
Facebook Ads
Email and Social Reviews
55+ Salon Marketing Ideas and Trends
Get Your Spa or Salon Listed On Online Directories
Form Partnerships with Other Local Businesses
Offer Referral Discounts
Loyalty Programs or Punch Cards
 Salon Promotions that Work
Share Your Promotions on Social Media
Make Use of Facebook & Google Ads
Run a Contest in Your Salon
 Create An Email Newsletter
Holidays, Special Events and Gift Certificates and 41 other marketing ideas
These basics will help you out at any and all stages of your business to reach out to potential clients and build your brand image. There are 5 things you need to work on for a strong base for salon marketing ideas. Let's dive into it without further discussion.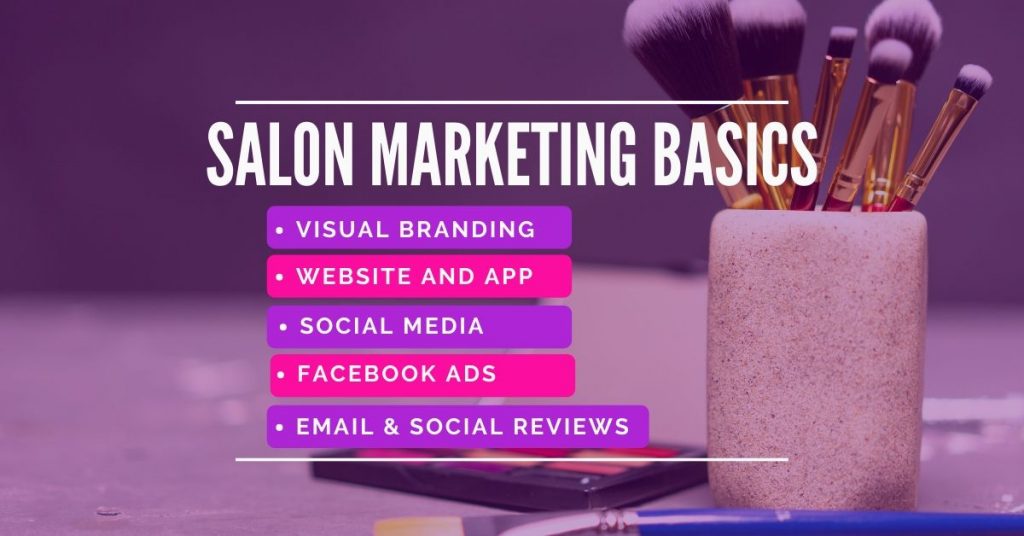 Salon Marketing Basic #1: Visual Branding
#Visual Branding: Visuals always speak louder than words. So, it is important to understand the following points in order to analyze the salon marketing ideas that can work for you:
The visual appeal of a salon should be consistent everywhere from their social media, website, email right to their offline pamphlets.
Make sure the color scheme goes with your brand aesthetics and expresses your brand perfectly.
To get all this right you need to make sure that everything is just perfect.
Focus on key pointers like what your salon personality should be like. Some of the brand themes which you can try are artistic, edgy, indie, wacky, or calm, you can even go for the abstract.
Make sure whatever salon marketing ideas you choose are in sync with what you want your brand to express.
#TargetAudience: Second thing is that you should keep your target audience in mind at all times while implementing your salon marketing ideas.
Think of all the demographic and characteristic traits they might have.
Apart from the age group, consider their business interests, shopping behaviors, likes, and dislikes, etc.
Only after all this is sorted, go for your brand logo and color palette. E.g. yellow and teal can be used if you are going for an edgy punk rock look and rose gold or peach if you want to get a more classy and feminine vibe.
To sum it up, your brand image should be consistent, meaningful, and attract the right audience. 
Salon Marketing Basic #2: Website and App
Salon owners don't give websites and salon booking apps much thought and this is where they go wrong. The first thing that potential clients look for when they think about researching a business is to check the website. To help you get the importance of the website we have listed down 4 points:
It helps to connect with your clientele and tell your story in your own words along with pictures of your work. You can tell them about the time where you started, what you believe in, and what your vision is. 
It gives your salon a sense of legitimacy because the users will have a place to get in touch with you even if they are within your vicinity. 
It will help in SEO and SEM optimization. The easiest way to get on top in google search is through SEO optimization and you need to have a website in order to do so. You can even link your social media accounts on your website to reach a broader set of audiences. 
You can put valid and updated information on your website. Things such as services available at your salon, prices, timings, your best workers and specialists, etc.
Benefits of Salon Marketing Apps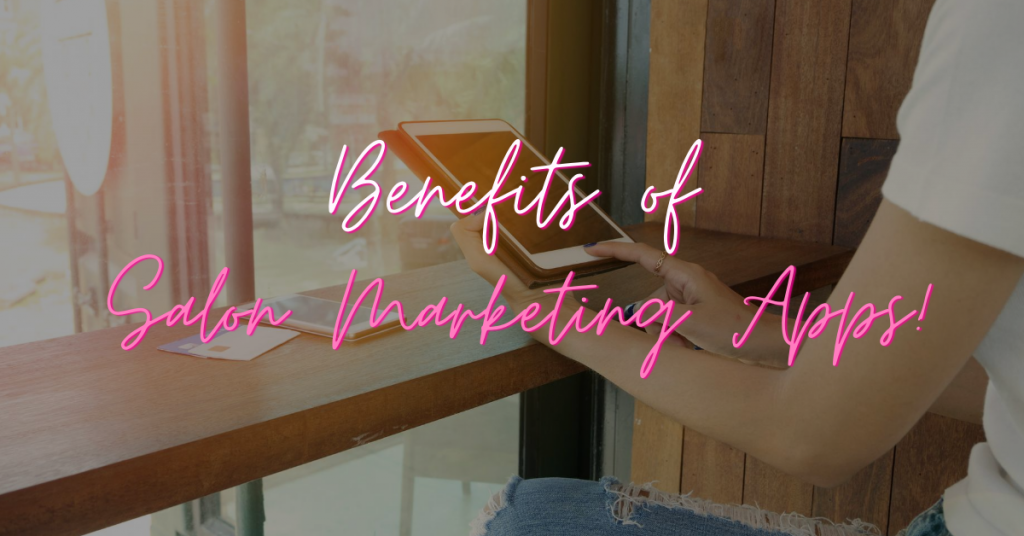 Salon marketing apps are important because they give a more personalized feel to the user.
Clients can look up for their previous and upcoming appointments along with the pricing for other services all in one place.
It is important to keep in mind that all these things should be branded and follow a color palette or theme that represents your brand to your clients in a way that they get a sense of familiarity.
They should be able to associate the colors or theme with your brand and recognize you.
The website is the best way for clients to book an appointment instead of calling the salon to schedule it. Give your clients as many options as you can.
Salon Marketing Basic #3: Social Media
Social Media has to be on the list of salon marketing ideas, a lot of salon owners are already on it. However, you have to know how to make it work and get potential leads through it.
There are a lot of social media platforms available out there, you can get the best salon ideas via social media. However, not every platform is good for everything. E.g. your brand page on LinkedIn might not be the best option. Facebook and Instagram are better suited for interactive brands. Instagram is perfect for creating a visually appealing vibe with filters, colors etc. It works more like a portfolio for your work. Facebook, on the other hand, is text and videos. The algorithm these days demands more videos like Live podcasts to get more likes and engagement.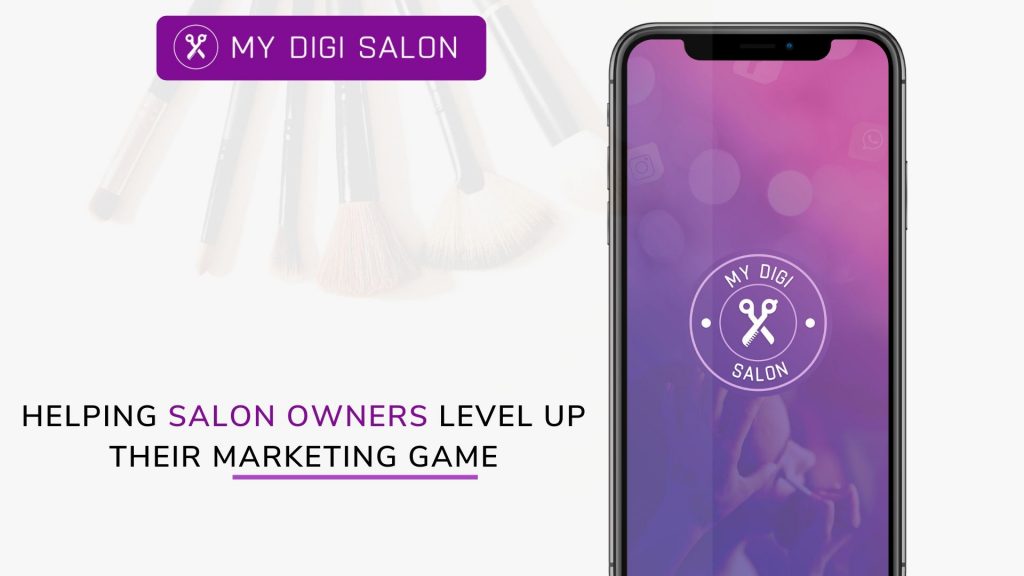 Salon Marketing Basic #4: Facebook Ads
Social media marketing or SMM is to reach out to potential clients that you can convert into customers with a little push. Regular social media updates will help in getting people more acquainted with your salon. But Facebook and Instagram ads are important beauty salon advertising ideas to get real-time customers for your salon. Facebook ads with proper targeting and budget will give amazing results. There are 5 things you need to keep in mind about getting everything right.
Friendly and personalized language. 
Try to go for short video clips instead of pictures
Keep time-sensitive promotions with a call to action button.
Use Facebook ads manager to keep a track of the metrics and analyze the numbers as frequently as you can. 
Change the text copy and creatives timely. It will help to optimize your ad campaign and get more clients. 
Salon Marketing Basic #5: Email & Social Reviews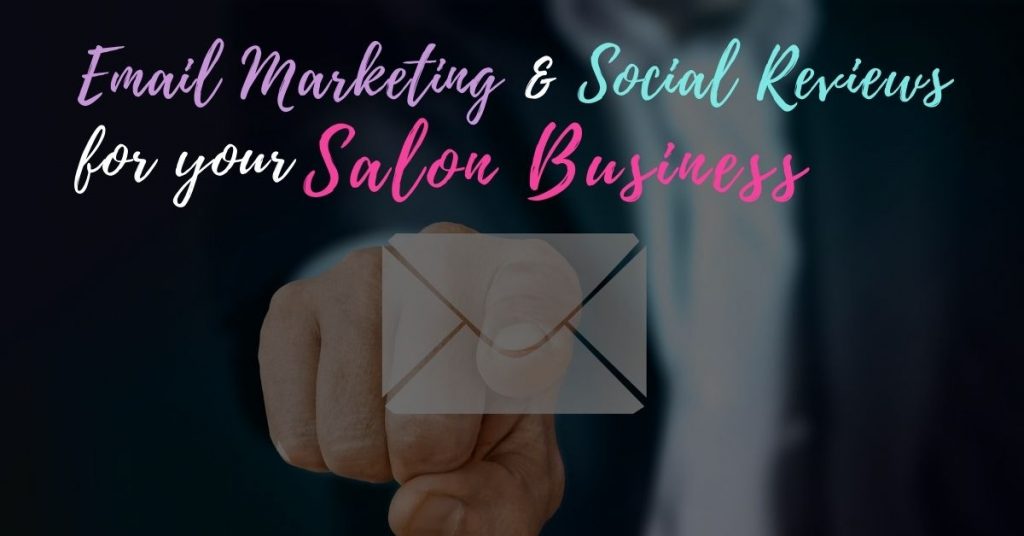 Apart from a website and social media marketing, the marketing suite for salon should also include email marketing and social reviews; two things you can not afford to miss at any cost. 
To connect more often with your customers you need email marketing because there is no guarantee that they will check your content on your social platform.
To make sure that they do not miss out on important deals and other offers, send them a personalized email. It will help them re-book more often.
However, make sure they are not sale mails, they'll go directly to spam or get deleted. Fill your email with personalized content like staff images, stories, etc. It will help your clients feel more connected with you. It is vital to add emails to your beauty salon marketing plan.
The last point is social reviews, always ask your users to rate and review you on Google, Facebook, Yelp, etc. This helps your clients to become your brand advocates by publicly vouching for your work. New customers always go for genuine reviews, they check different platforms for reviews and ratings before spending their money. 
It doesn't matter how good your services are, if the clients are not aware of your brand then your business is as good as closed. You need to make sure that your brand is visible and stands out to get more clients.

Looking for salon marketing and advertising ideas to grow your salon business?
Let's take a look at these easy, tried-tested, and effective salon marketing ideas to help you secure more clients.
Still thinking how to market your beauty salon? To help you secure more clients, you can definitely on these salon marketing tricks for an easy win. They are easy, tried-tested, and fun. 
1. Get Your Spa or Salon Listed On Online Directories
Users have a habit of searching online before spending money on services or products. This is the reason why your brand should pop up in search results like google my business, yelp( this is really important, make sure you have an account on Yelp with good ratings), and other social media platforms like Facebook, Instagram etc. with a business profile.
2. Form Partnerships with Other Local Businesses
In order to get new clients and enhance your beauty salon marketing strategies, form new alliances with local businesses with similar offerings. Eg. buy dinner, get a haircut free or movie free etc. These are some of the best hair salon advertising examples that can work for your salon. Offers and deals are really important when it comes to new user acquisition.
3. Offer Referral Discounts
Referral discounts and offerings are a great way to retain old customers and at the same time acquire new ones. You can even work with local businesses for referral schemes. E.g. refer 1 get 20% off, these offers are really lucrative and will surely get you good on foot traffic in your salon.
4. Loyalty Programs or Punch Cards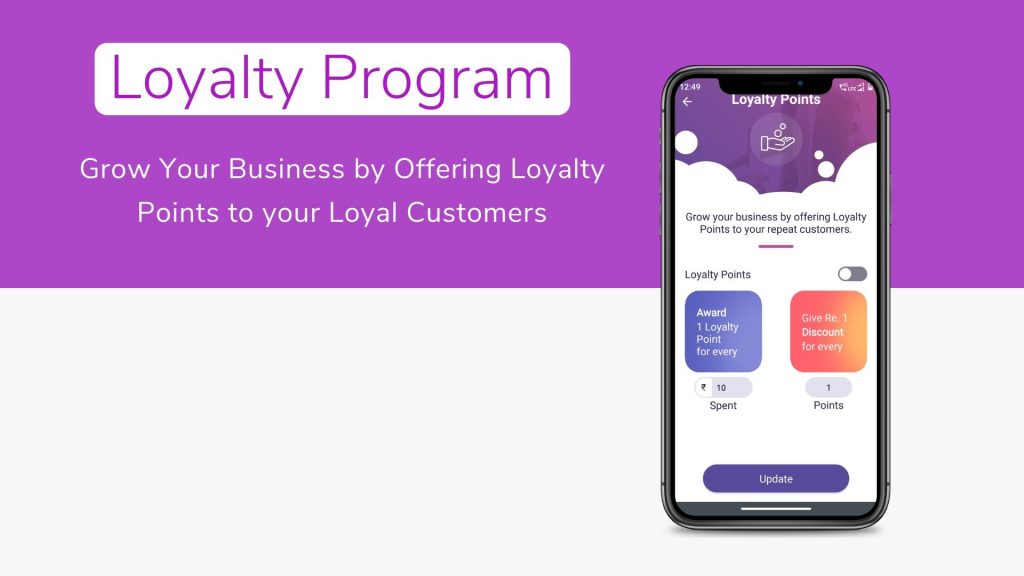 For your loyal and recurring clients make sure that you have an ongoing loyalty card or offer at all times. It will help you build a good rapport with them and they will keep visiting. E.g. hair spa free after 4 transactions.
5. Salon Promotions that Work
Customers love offers and discounts. Offers like first time visit, last-minute specials or monthly on house discounts or yearly visits etc. You can give clients offers when they first visit or during any time slot when the traffic is low etc. It will pique the customer's curiosity and they might end up booking an appointment because of these offers. All in all, the ultimate goal is to build salon promotions that work.
6. Share Your Promotions on Social Media
If you have a running promotion or offer, do not forget to list out on Facebook and Instagram. Even if you put a story and your reach is organic, make sure you do it. It will give the vibe that it is an exclusive offer for your social media followers.
7. Make Use of Facebook & Google Ads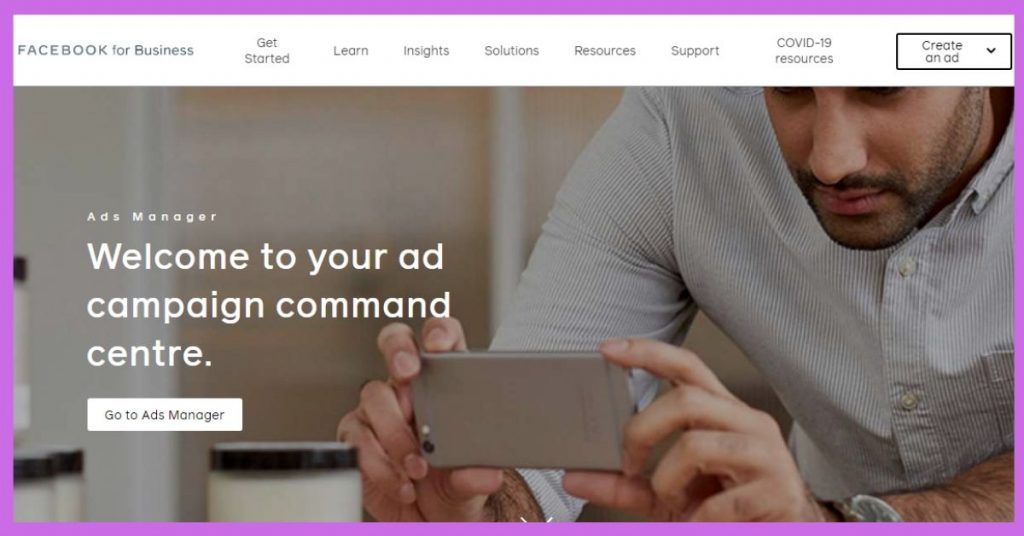 Facebook and Google Ads help in bringing legitimate leads for the business. When users look at an ad they tend to go for it 40% of the time. The success of these ads will depend on your targeted audience and other creatives. When a customer visits your website you can use these ads to re-target them by showing banner ads and redirect them back to your page. 
8. Run a Contest in Your Salon
Social media contests are a great way to acquire clients. Run a referral campaign e.g. the user with the most number of referrals will get a day of free services or a hair makeover etc. It is one of the best hair salon Facebook post ideas to increase your salon's engagement. Think of it as more like a small gift if they get you an adequate number of new clients.
9. Create An Email Newsletter
When your clients book an appointment with you or are paying for the services used, you can ask for their email addresses. When you have enough email IDs in your database to work on, you can blast monthly emails to keep them updated about your salon promotion ideas and offerings. You can even personalize this experience by sending individual reminders addressing them with their names along with the promotions that they can avail.
10. Holidays, Special Events and Gift Certificates
Holidays are a great way to catch potential clients. E.g. Mother's Day, Black Friday sale, New Year, Christmas etc you can give small discounts like 20% off for all mother's hair spa on mother's day.
You can even include your client's anniversary and birthdays to make them feel special and cherished. 
Offers like a free manicure with haircut will get more traffic before valentines and proms etc. will get more teenage traffic to your store. And offers like blowdry free with facial will get more mid 20s woman.
Apart from these offers, Gift certificates can also help you attract new clients around the holidays.
Campaigns like free $10 gift cards with every $150 gift certificate purchase. So when a client comes to use the gift card and gets another 10$ service gift card there is a high probability that they will end up using your services again.
11. Create a Profitable Front Desk
Your front desk staff is the face of your brand when a customer enters your salon. Apart from that, it is one of the main rebooking sales interactions. You should make sure that your staff is well trained to upsell or cross-sell to the clients before and after your services. 
12. Set up a Selfie Station with your Salon's Hashtag
The selfie trend is not going to go away anytime soon. You can benefit from it by creating your own mini photo booth within your salon. Just make sure the lighting is great and your clients will post the pics on their social media channels for sure. You can add props like a hashtag cutout or image in the background to make it more authentic. Ask your clients to use the same hashtag while posting and all the posts will come under it. 
13. Create a Memorable Client Experience
The main motive of visiting a salon is not just to get a haircut, people expect luxury and pampering with it. Make sure that you create a memorable experience for your clients right from the moment they enter your salon and it should continue till the moment they step out.
14. Carry Exclusive Products
Exclusivity is a factor that can help build brand value. If you keep high-quality products that are available only at your salon, it will differentiate you from the competition. Try to upsell these products, if the clients end up liking them then they will keep coming back for more. 
15. Cultivate High-Quality Relationships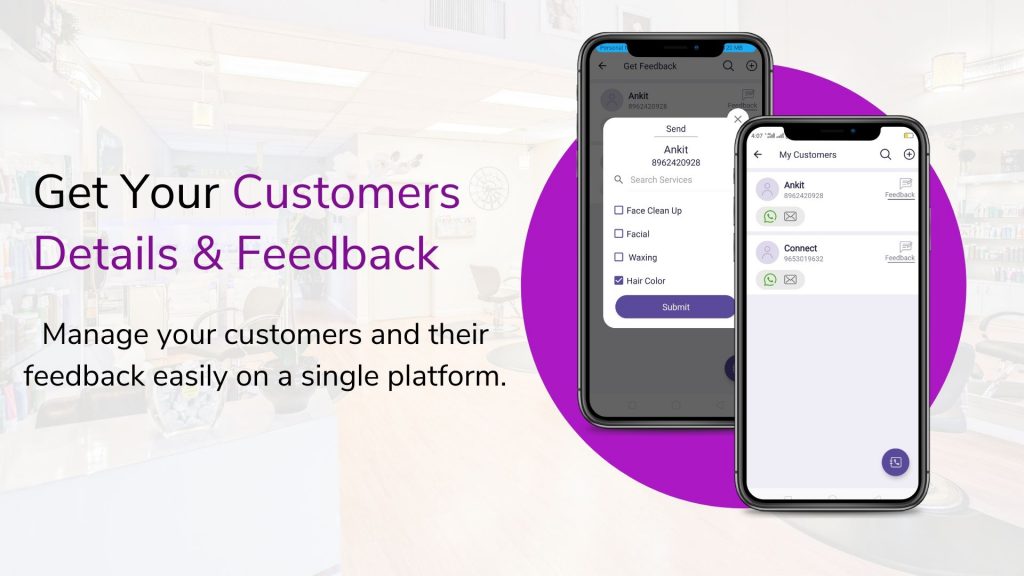 If you have recurring customers you should work on developing a long term relationship with the. It will only help you get a loyal customer connection but they can also help to recommend your services to potential clients. Ask them to rate your salon on social media platforms and refer offline to their friends. 
16. Simplify your Pricing
Pricing is the first thing that customers check when they ask for services. Too many options can confuse the customers, you should work on simplifying your pricing structure and menu. Let your services speak for themselves, keep in mind that customers spend more if they understand everything in one go.
17. Branding at its Best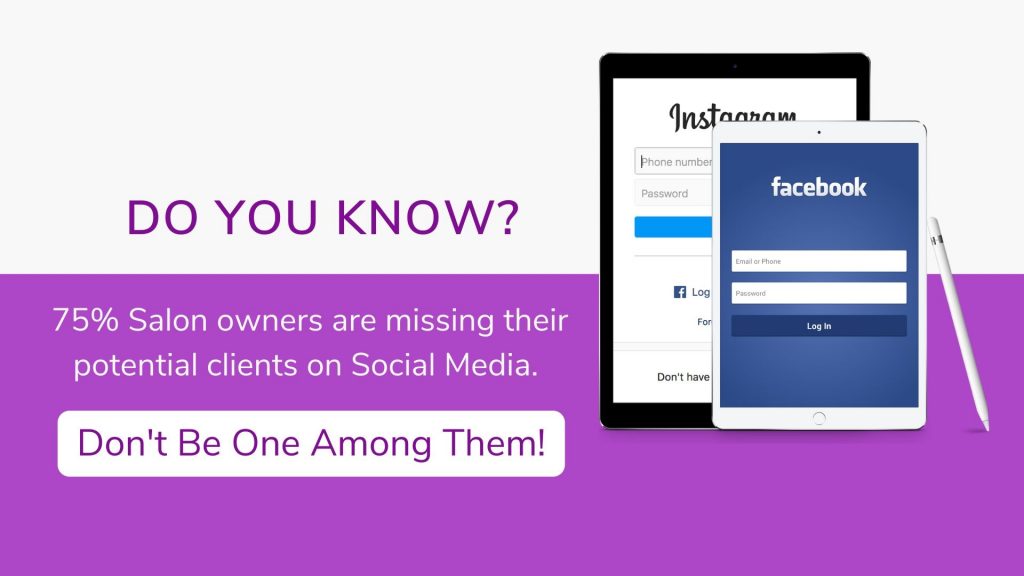 Just the salon space is not your brand, your employees are representing your brand at all times. Make sure that apart from your salon theme their clothes, hairstyles, makeup skin and behavior are always on point.
18. Offer Add-on Services
If you have any add on services, like free blow dry with hair spa etc, then make sure that you coach your staff properly. They should be able to naturally up-sell add-ons or retail while serving the customers.
19. Hold a Super Sale
Running discounted services or offers is a great way to acquire new customers. Running an end of season sale once or twice a year is a good strategy. During this period you can offer all your products and services at 25% off to stimulate retail sales.
20. Referrals to the Rescue
Another way of acquiring new customers or generating potential leads is Referrals. If you have your salon app, you can run an offer for referrals, like refer 2 people get 25% off on your next salon visit.
21. Online Reviews
Online reviews are really important. More than 70% people look for the salon/business online before availing services. You should request your clients to leave an online review when they visit your salon.
22. Offer Express Services
On the go services are a lifesaver for clients. You can offer express or mini services as add-ons to the original service or as a quick service session in between. E.g. basic manicure while getting their hair colored. 
23. Social Stylists
Make your stylists a social media expert. Teach them about the techniques to capture good pictures and end results after the services. Their profiles should speak for themselves, it will help draw new clients while boosting their and your brand image simultaneously.
24. Manage Your Reputation
Positive and negative reviews are a part and parcel of an online presence. You should engage with both of them in order to provide a better customer experience. Listen to their queries, and try to resolve their issues. Make sure you are always polite and professional while interacting with your customers, even when they are rude. 
25. Search Engine Optimization
When clients search for salons in your area, make sure that your ranking is good and you appear on top of the search results. Top result + good reviews = New clients. Hence, your beauty salon digital marketing is quite helpful.
26. Google Ads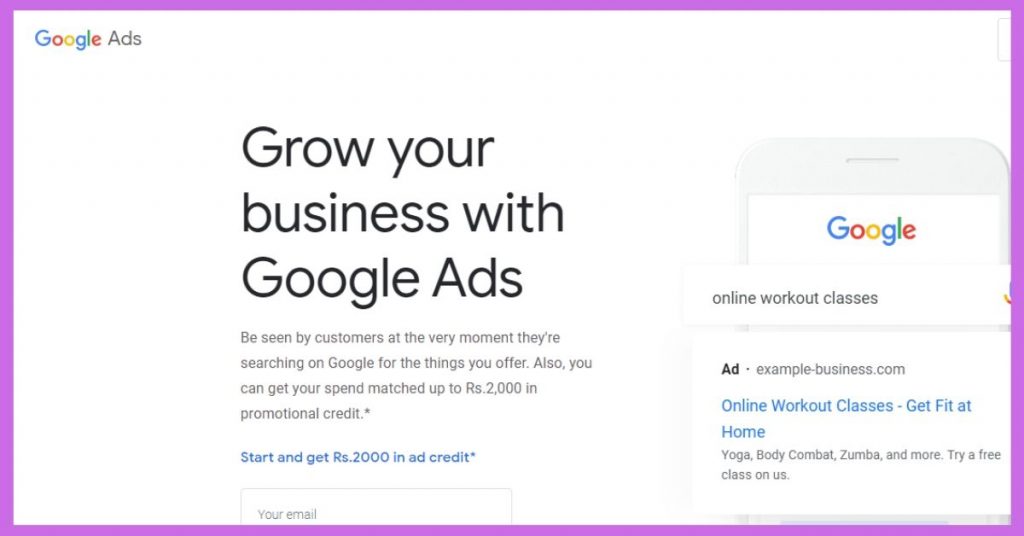 You can run search and display ad campaigns on Google ads in order to appear on top. Organic search results are great but paid results will get you reliable clients at a much faster rate.
27. Facebook Ads
Everyone is on social media, so clearly it makes sense to advertise on it. Reaching out to clients via Facebook Ads can help you target them based on their interests and demographics. You can be as picky and as broad in selecting your audience. 
28. Update your Website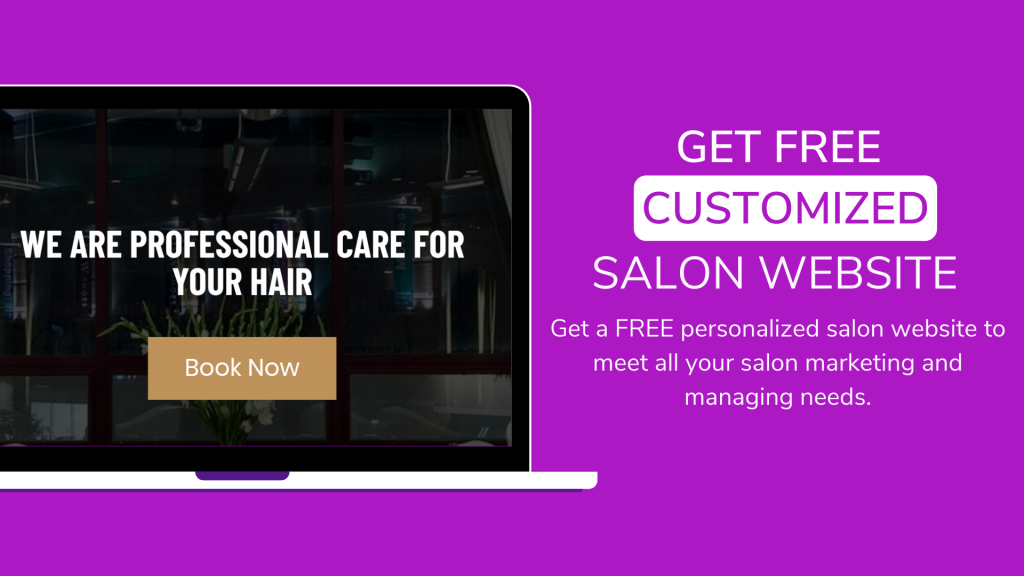 The website is really important, if you do not have one get it made. My Digi Salon can help you with that. You need to get a simple and easy to follow website that conveys your message and brand language clearly. 
29. Publish your Salon's Own Blog
Original content and timely updates on your blogs not only helps clients, it also helps maintain your brand image. You can post blogs related to the current market trends or your offerings and their benefits. If you still do not know where to start then download our app and know about the trendy hair salon marketing ideas.
30. Contribute to Guest and Top Salon Blogs
Guests posts and blogs are important to maintain digital presence amongst popular salon publications. IF you content is accepted by the guest sites, you can get free coverage and traffic while reaching out to a new set of users.
31. Polls, Quizzes and Feedbacks
Social media can be used for a two-way communication for businesses instead of just posting content. You can run a weekly series of stories with polls, quizzes and feedback on your social media channels with incentives for participation. It will help boost your online presence and engage with customers who normally wouldn't.  
32. Update your Third-Party Pages
Third-party websites like Google and Yelp can help you grab potential opportunities. Make sure your profile on all these partner websites is up to date at all times. If you receive any review or feedback, reply, and engage with customers. It will give the impression that you are listening and boost customer experiences. 
33. Promote Visually Engaging Content
One of the most popular yet trendy salon marketing ideas is promoting visual content on Instagram. Instagram is all about visual content. Anything and everything that grabs their attention within the time span of the first 2 seconds will help increase engagement. You should use beautiful pictures in your blogs, posts, and website with clear communication. You can try My Digi Salon's inventory for getting beautiful and appropriate content that you can post on your social media channels.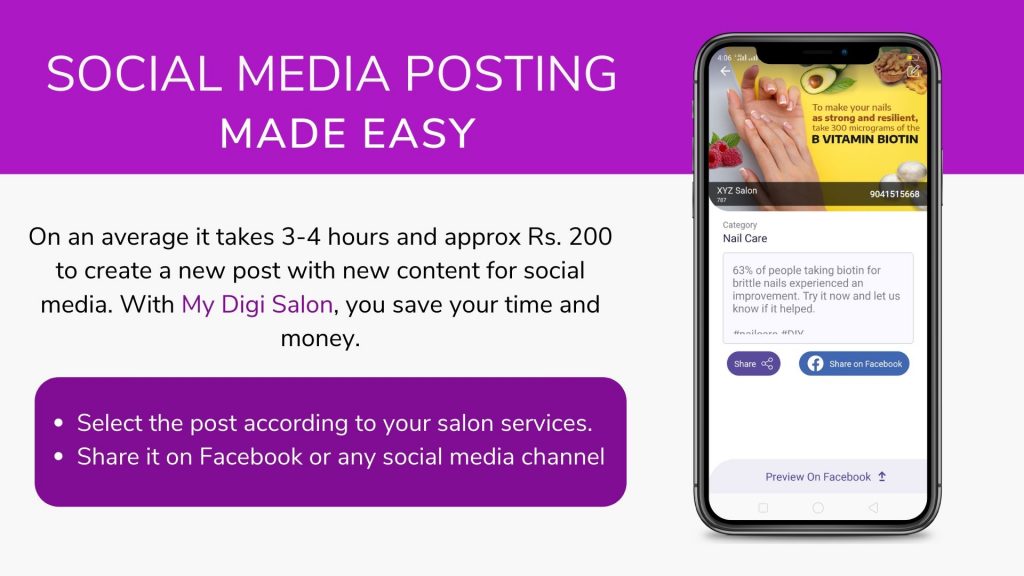 34. Create an Explainer Video
Small videos are really helpful for increasing reach on social media. Engaging videos or mini shoots during services like boomerangs etc. can help you connect with a wider set of audience.
35. Try Tik-Tok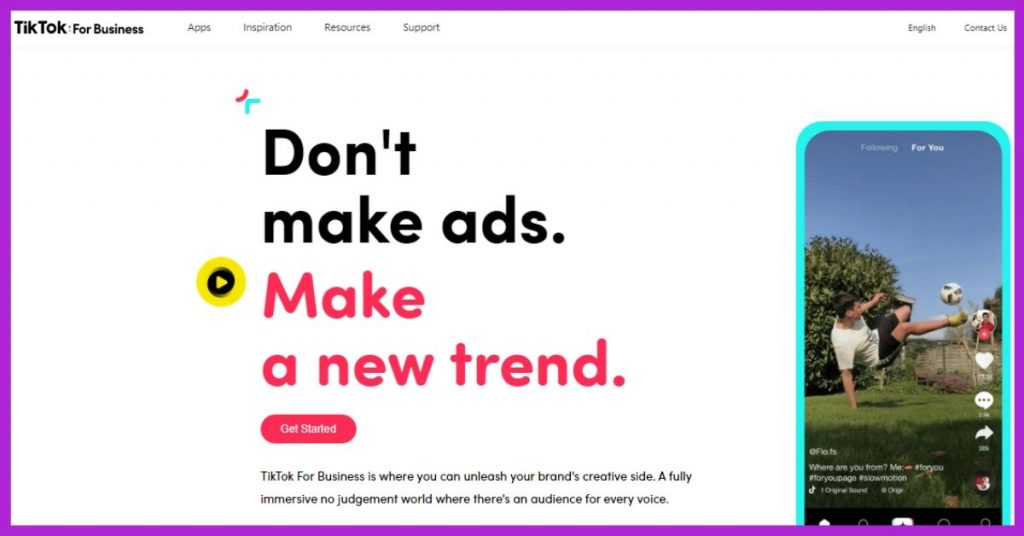 Try Tik Tok videos for hair colors showing before after, they are in trend and people love watching them for hours. Create engaging videos that tell your brand's story, or shoot mini-videos during and after your services to show off new styling and color techniques.
36. Define your Brand
You should be clear about your brand personality and theme. It will totally depend on your clientele e.g. macho for men-only salon and quirky for edgy looks etc. Make sure that it is reflected in all your online and offline communications. 
37. Tag your Clients
When you click your client's before and after pictures, make sure you ask for their social handles. You can tag them in your posts and stories and they can repost them. Clients love getting featured on salon pages, it's sort of a social validation checklist.
38. Sell Beauty Products Online
Offline upselling is great but to reach out to a new and untouched audience you should try selling your products and services online. You can either add a shop here section on your website with product listings or host an e-gift section. 
39. Build Joint Ventures
Partnering with the local business by co-hosting events is a great way to cross-promote your services. Offers like "Visit us, get 10% at Henry's" etc. will get more customers in you salon as well as your local business. 
40. Get involved in National Events
Third-party and national events are a great way to unlock potential clients. By participating in national educational events or trade shows can be a great networking exercise. You can learn how to improve your business, get new B2B working opportunities and at the same time improve your brand image. 
41. Create Professional Business Cards
One of the traditional yet effective salon marketing ideas is creating a business card. All your staff members should have professional business cards that they can handle to clients and partners. It should ideally have their name, number, email address, and contact information. You can even add social media handles to make it more trendy. 
42. QR codes for Social Media Handle Links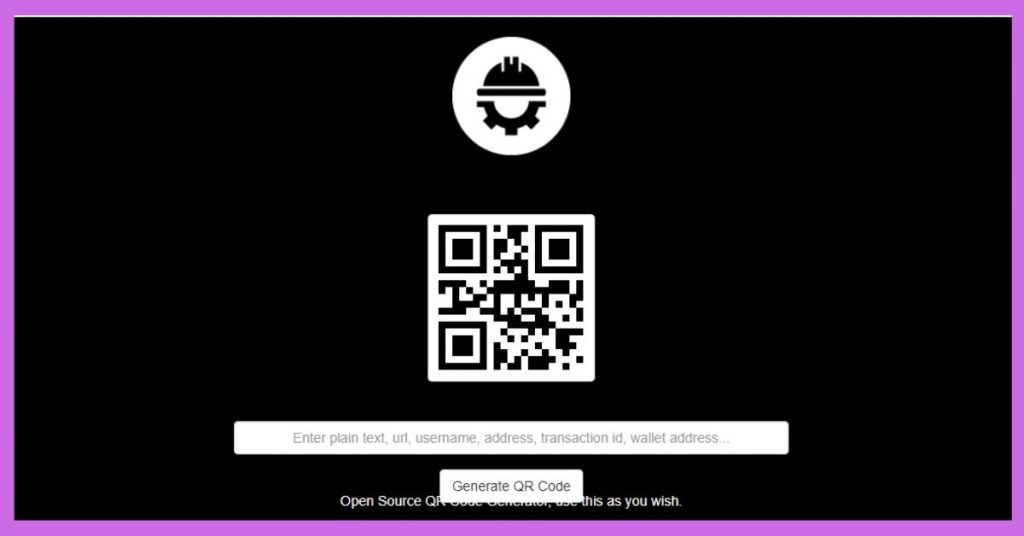 Instead of typing the handle names on cards and pamphlets, you can get QR codes printed. These QR codes can be scanned by your clients and will redirect to your social media handles. It saves time for the clients who might not make the effort to look you up online.
43. Team Up with Local Schools
Tie-ups with local schools, universities, and institutions, especially fashion and hairstyling, can help you get quality interns for your salons at a cheaper price. 
44. Birthday Offers to Clients
You can offer small rewards or discounts to your loyal customers on special occasions like birthdays. Send it on the day or a day before to remind them that you care and their pampering session is due.
45. Bridge the Gap Between Customers
If you can not give discounts, then try to send out gift cards or text wishes on important dates. These little efforts can help you bridge the gap between you and your customers to help make life long relationships.
46. Networking Events
Stay connected with other top players and professionals in the business. It will help you stay on top of the market with the latest trends. Trying registering and attending events taking place in your vicinity. They are a great way to improve networking.  
47. Become an Educator
You are a professional, share some tips and ideas with your followers. You can post and share educational content on your social media channels for your clients. Moreover, you can even host live sessions on Instagram where you can go for Q&A and share educational content or host classes that clients can attend to show them how to maintain their services at home.
48. Apply to be a Talk Guest
Instead of just hosting these classes on your social media channels you can expand your reach by getting on talks as guest speakers. E.g. During virtual events for hair and beauty, you can participate as a guest speaker and share your experience with the attendees.
49. Host a Client Appreciation Event
Thank you loyal clients by hosting an appreciation event once a year. Send an invite to all your VIP clients for a full day or multi-day event. You can go out of the station or just party all night in a 5-star setting. Client appreciation is the first step in establishing strong relationships. 
50. Retarget clients who have Left
If you note that your loyal customers have stopped coming to your salon, e.g. zero visits in the last 4 months. You can drop an email or SMS with some discounts for a new appointment. Communication matters so make sure that you convey your message clearly. 
A Must Read: How to Generate Leads for your Salon Business
51. Learn from the Best
Make sure that you are up to date with fellow successful and professional leaders. In order to procure their skills and accomplishments, try to follow in their leads. See what they are doing and how they maintain an online presence. 
52. Give Away Freebies
Everyone loves freebies, instead of offering discounts you can go for merchandising. Give small gifts like shirts, pens, and other items with salon branding as a token of appreciation. 
53. Re-Do your Retail
If you feel that your growth has gone stagnant or is dropping, you need to re-evaluate your retail strategy. Take help from us, My Digi Salon is a complete marketing suite for salons to establish the most effective sales strategy. 
54. Offer Discounts to Senior Citizens
Senior citizens tend to be more loyal to brands and businesses. To make it easier for them to opt for your services instead of your clients, offer senior discounts to your regular and loyal customers. 
55. Send Appointment Confirmations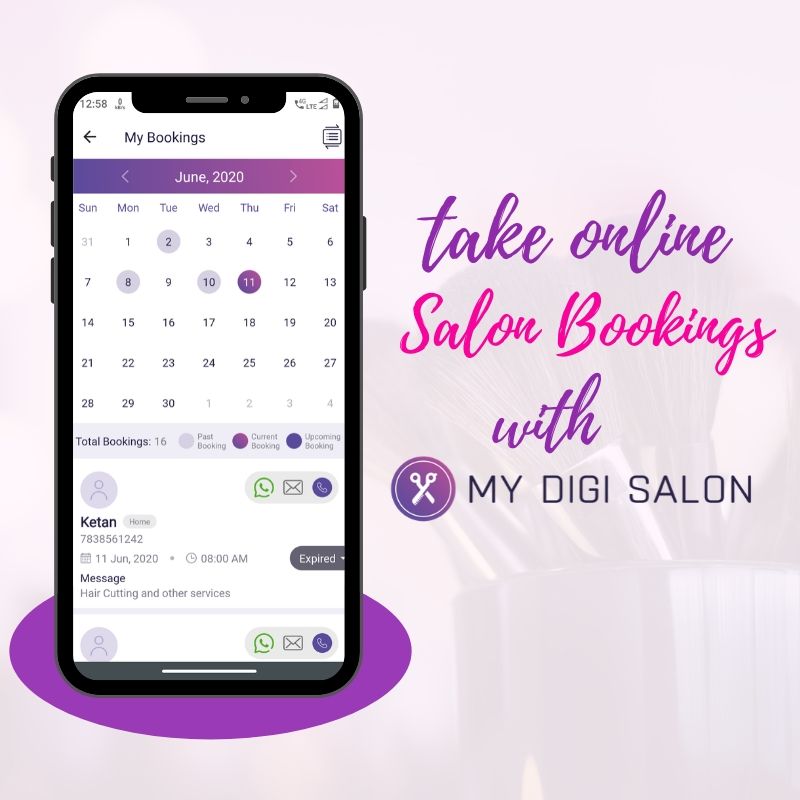 As mentioned above communication is the key. How you communicate with your customers will directly affect your brand image. To improve it, you can start by sending appointment confirmation texts and emails to your client as a reminder. It will help avoid unnecessary hassles and misunderstandings. Moreover, it is one of the most effective salon marketing ideas.
56. Automated Scheduling Reminders and User Journeys
Automation is the future and you can take advantage of the features available now. You can work on client or user journeys. E.g. welcome email, first appointment, referral emails, etc. apart from that you can automate reminder emails like an email 5 weeks after a hair color appointment. You can even send them a 'we miss you' email with incentives.
57. Get a Beauty Salon Marketing App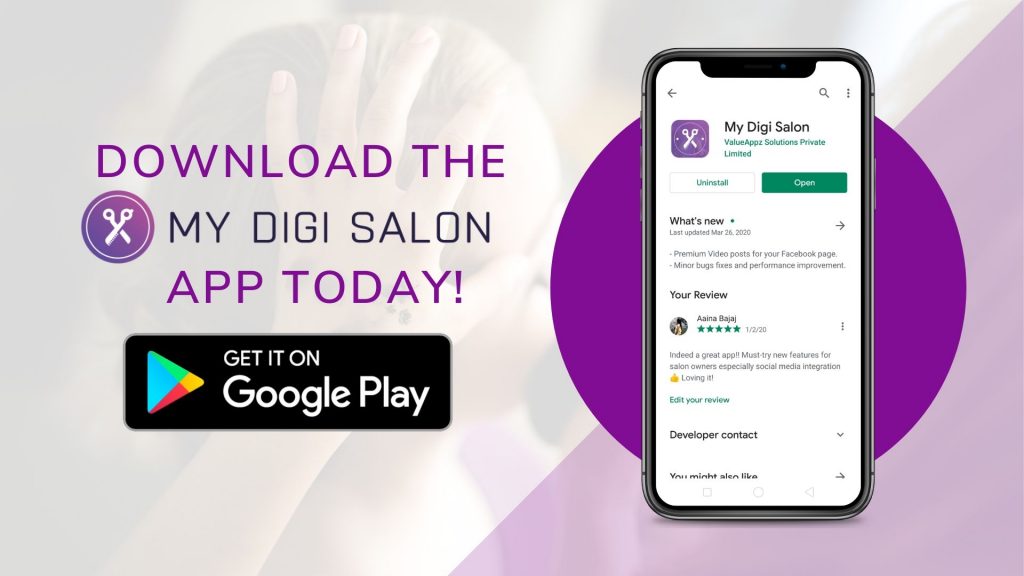 Instead of running here and there for all the things we mentioned above, you should invest in a beauty salon marketing app. Get a customized salon app by My Digi Salon with all the features that you believe are required for your salon e.g. side menu navigation, banners on the homepage for new offers, etc. You can get in touch with your customers directly via in-app pop-ups, push notifications, etc.


Conclusion
We are sure that the above-mentioned salon marketing ideas will help you in your salon management. They will definitely help you in retaining your customers and at the same time acquiring the new ones. You just need to make sure your brand language and visualization are consistent and resonates with your goal.