5 Proven Ways to Keep Clients Coming in Your Salon
Retention rate is one important aspect that salons and spas can not miss. Small or large scale salons, both should aim for a high client retention rate.
When opening a new salon, the acquisition rate is the focus point. But a high retention rate is what helps in the long run.
Do you know that recurring customers are likely to spend 120% more than new customers?
But the question is " how to retain salon clients?" With this blog, we are going to shed some light on the 5 key points that are going to help you make the foundation of your brand.
A strong foundation leads to great client retention techniques, brand building, and increasing ROI. Let's dig in, shall we?
#1: Good Client Experience
The main aspect that helps a business in getting successful is how they treat their clients. Your salon infrastructure, communication, service quality, and the overall feeling is what the customers take into consideration.
It all happens subconsciously. They are not trying to pick on you or anything, but how they feel while getting a haircut or the quality of makeup you use will decide whether they'll come back a second time or not.
Need tips for building a healthy client relationship? Keep reading!
– Remember their Likes, Dislikes, and Preferences
One of the most important client retention techniques is the feeling of being a part of the elite client and being remembered.
The main reason why we are focusing on client retention is that only a 5% increase in client retention can help shoot up your profits by a minimum of 28%.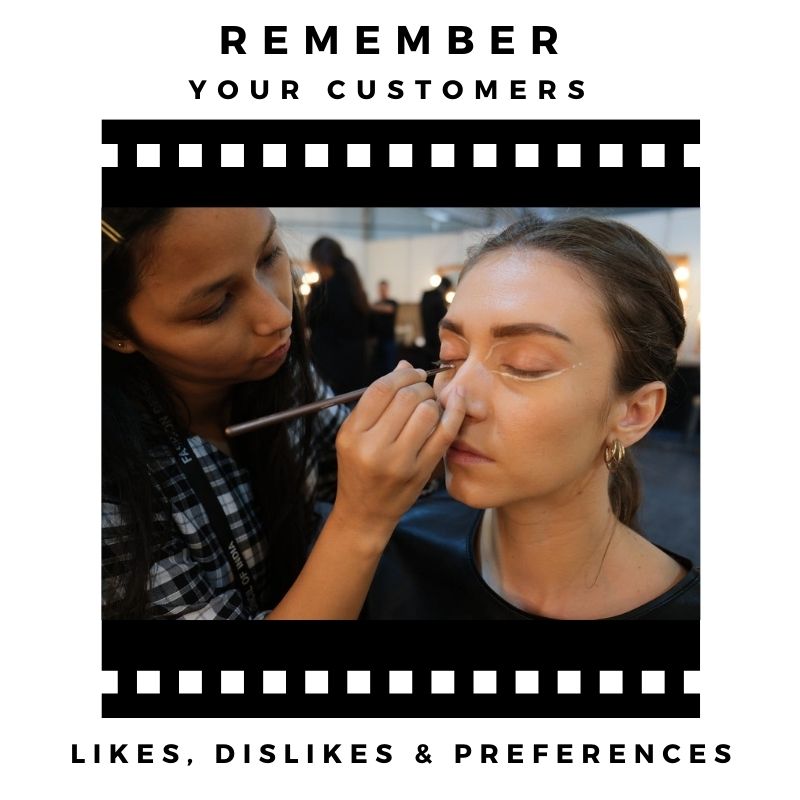 When a client first enters your salon, ask them their preferences.
Try to communicate what services they are interested in. Ask whether they have any skin or hair concerns that should be kept in mind.
You can even ask them to fill an online form before booking an appointment. It will help you make client profiles. So you won't need to remember everything. You can just pull the database and voila!
– Celebrate What Makes you Unique
Looks are everything when it comes to the beauty and salon industry. The ambiance, team uniform, and salon theme, everything will ultimately influence your client's decision to come back or not.
Try to decide on a theme for your salon based on your target audience. Go for a more retro and chic look if your target audience is above the 30s.
However, if you are targeting a younger audience as well then get a more hyped and colorful ambiance. Go for selfie stations, pop references, etc.
If you have a different theme then stick to it, embrace your uniqueness and let it shine. Your theme might not appeal to everyone but you will attract a more loyal and interested audience that have similar taste.
– Provide Amenities Within the Salon
Wifi, water, snacks, and small instore amenities are a good way to impress your audience.
But with this ongoing pandemic, you might want to change these a bit. Instead of food offer sanitizer sachets, napkins, masks, etc.
Make the experience pleasant and interesting. Comfy chairs, couches, footrests, etc in the waiting room are also the amenities that your clients will love even more. 
#2: Salon Marketing Strategy
Even after the amenities and good service experience, some customers need a little nudge. To retain them you need a little extra. This is the place where client retention techniques come in.
You need a specially curated strategy to get your customers to come back. But how to get clients back into the salon? Include the following tips and you'll be good to go.
Your salon retention marketing strategy could include:
– Rewards Programs for Client Retention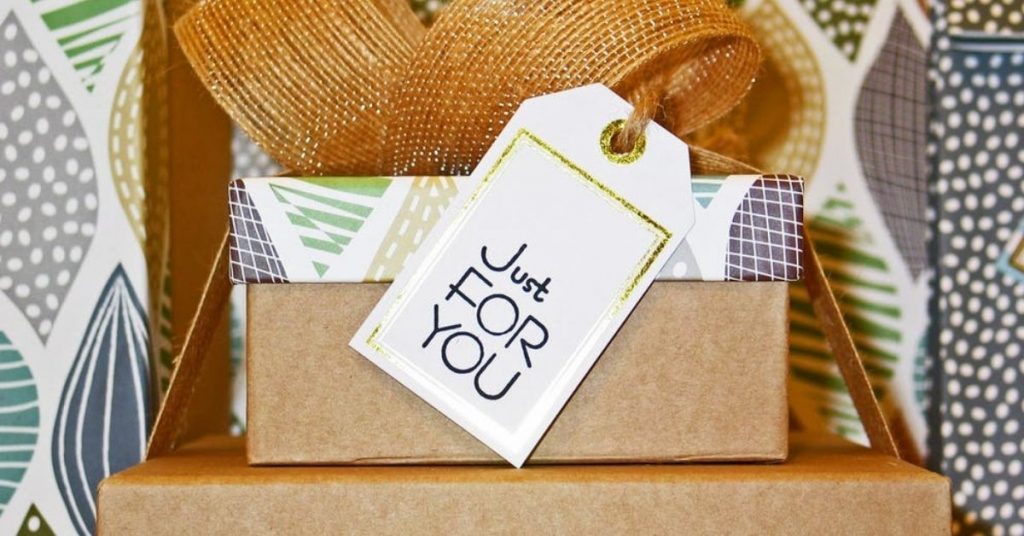 Discounts are a good way to promote services in acquiring new customers and retaining old ones as well. But instead of discounts for your loyal customers, set up a rewards program.
You need to appreciate your old clients more than your new users. We are not aiming for just one time visit, right? Make sure you do not offend your regular clients while trying to woo the new ones.
Give a 10% discount on the next visit or Pedi free on a transaction of 100$ etc. a simple point system to redeem rewards will also go a long way.
– Upsell
When a client visits your salon do you promote your on-shelf products as well? If not, then you should.
You should not force your clients to buy those products, however, make sure that they are aware that they are up for sale. Do not miss out on sales and repeat business.
If they like a product, they'll buy it again. It can actually go from one to three to multiple products in just a matter of months.
Do not forget that higher the rate of a customer to purchase a product or retail products from you will directly affect your retention rate.
– Digital Marketing Efforts
Still not on social media? Why? You need to be active on social media to make sure that you are keeping up with the latest trends.
90% of your users are on social media and to target them you need to buck up and do it, too.
Strengthen your digital presence with:
Email Marketing
Social Media
SMS Marketing
Search Engine Optimization for your website and
SEM/ PPC
If you need any help, try getting in touch with us at www.mydigisalon.in. Get your own salon app. Explore these channels to test what works best for your audience, business, and is under your budget

– Re-engagement Campaigns
Try to identify clients who haven't visited you in a while, and send them "we miss you text" with a discount. It is one of the most important client retention techniques that work for almost everyone!
Tell them that you'll love to see them again.
Try to include their name to make them more personalized.
Make user journeys for retention and re-engagement campaigns to improve your retention rate.
Are you missing out on loyalty points for your salon? Check out this salon owners's guide to use the loyalty program for customer retention.
#3: Go Digital for a Seamless Booking Process
How to increase clientele in a salon? Keep up with the latest tech and surpass your competitors.
You need to make sure that you have a well designed and secure online appointment booking system in place. A smooth booking process will get you to fill up your calendar more easily.
You need to master the art of rebooking. Instead of front test booking, try investing in social media, website, and a salon booking app.
– Chatbots
Chatbots can help you a lot. And we mean a lot! They can take over the place of having to directly talk to the customer about monotonous things.
You can invest in a good chatbot with FAQs and booking procedures in place with the right skills and tools.
Make sure the process is seamless and it will help you book more clients repeatedly.
– Social Media and Salon apps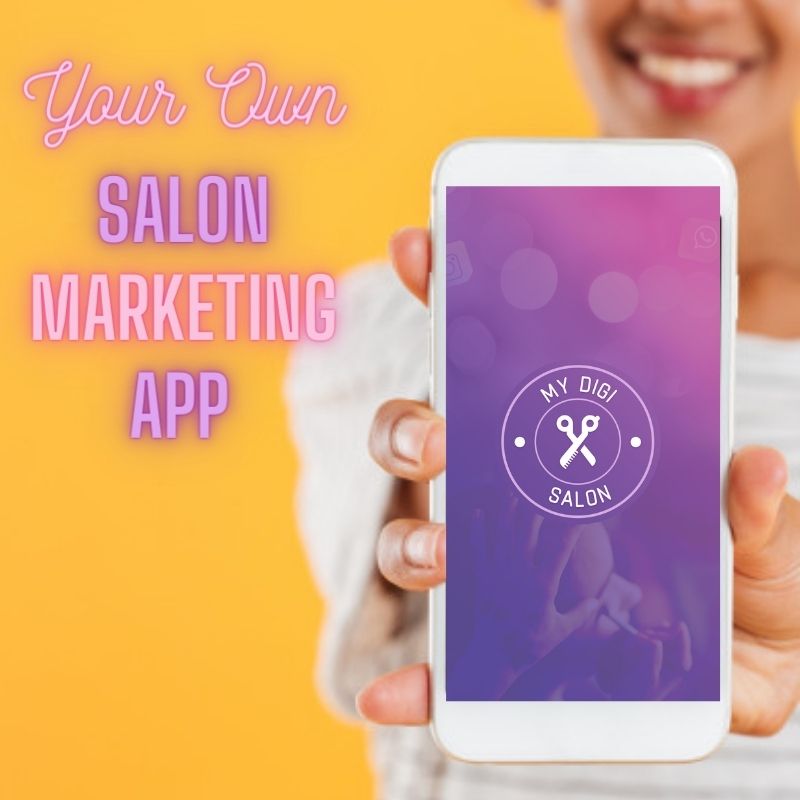 Investing in a good salon app will help you streamline all the processes form a single palace.
From team management, social media conversations, client bookings, ratings, and reviews, you can manage everything from one app.
Apart from that, you can make sure that you have all the pricing details on the app and your website. Be as transparent as you can, it'll help build trust. Customers hate hidden charges.
#4: Your Staff is the Face of your Brand
Your employees are the backbone of your salon. Everything depends on how your team handles your clients.
You need to train them well to make sure that your salon is providing the best services at all times.
Make sure they are well dressed, polite, and professional. Get them on social media and share behind the scenes so that your clients can connect more.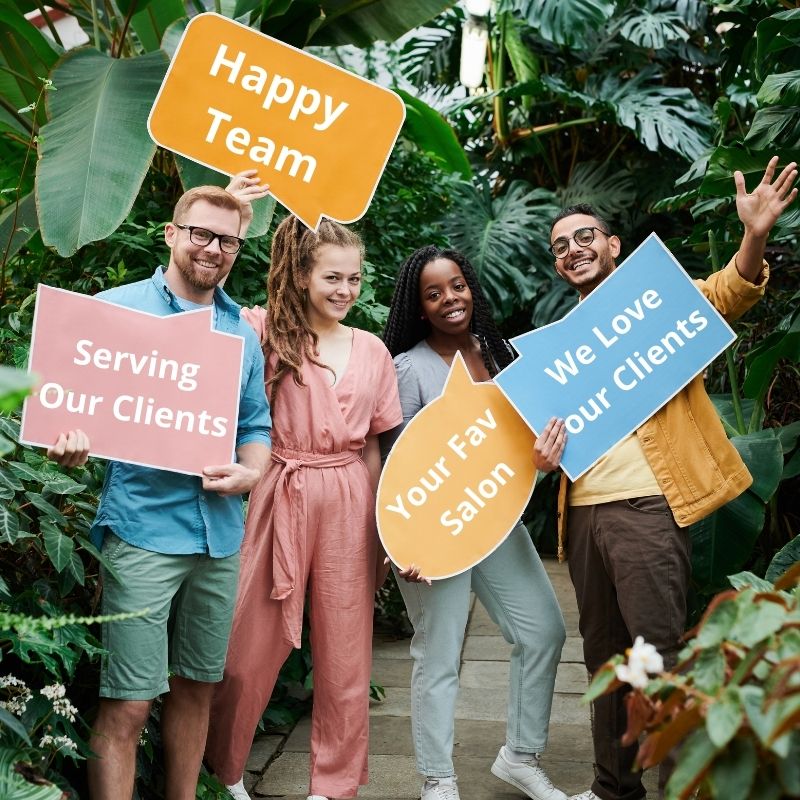 #5: Create a Positive Workplace Culture
A positive workplace can make a huge difference in the attitude of your team. If they love working at your salon, they will automatically treat your clients better.
Always remember, Happy employees, perform better.
Make sure you delight and motivate your team regularly. Try to run monthly competitions and reward the winners. A culture of recognition is great for employee morale.
Summary
Client retention won't happen automatically or overnight, you need to actively pursue and make it happen. There are no particular client retention techniques that will help you get clients to stay, you need to find out what works best for you!
Great salon marketing ideas, booking processes, client dealing, service experience, etc will help you achieve your goal.
Test, trial, and see what works for you. Try to improve these gradually and continue to have your clientele walking through your salon doors again.