Salon Owner's Guide to Use Loyalty Programs
Some form of customer retention plan is required for all salons if they want to succeed in the longer run. Traditional marketing and retention policies include punch cards, invitations, exclusive memberships for classes by experts along with good customer service. However, COVID 19 has made times difficult for hair salons, parlors, Spas, and other "hands-on" businesses in general.
Due to all the restrictions, customer loyalty is such an important aspect these days. Many countries have still not eased the lockdown restrictions, so depending on your location, you might be prohibited from opening your salon.
Even if your salon has returned to business as usual, the usual hustle and bustle are not expected so soon. Turning to digital marketing as a means to communicate with the customers throughout quarantine has proved quite useful. The web traffic has noticed a surge throughout this period as people are always on the phone. If you are also looking for digital loyalty programs, we've got some points that will work as a comprehensive guide for your salon success.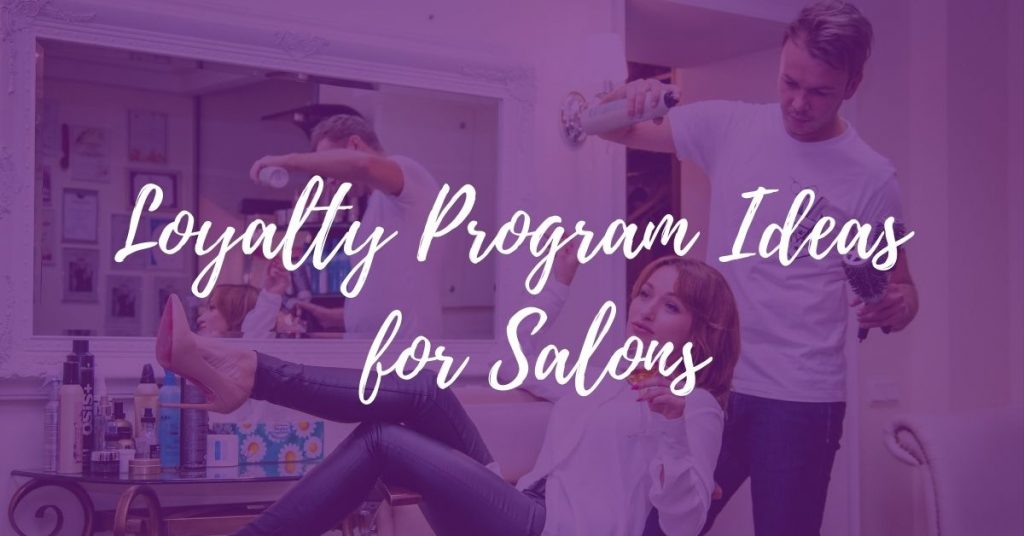 Loyalty Program Ideas for Salons
A Loyalty App for your Salon
Salon app for loyal customers is arguably the best and least invasive way to set up a loyalty program. Simply ask your customers to download the app, create an account to register with your contact details, and start redeeming rewards. For every appointment, the book, give them discounts or incentives on their next appointment or product purchases.
Integrated Point of Sale (POS) Loyalty Program
Integrating your POD system with your program will be another way to go about setting up a digital loyalty program. There is a little bit of investment involved when it comes to installing salon booking software and adjusting it according to your program setup, but it is worth every penny. You will get customer names, numbers, email ID's during payments which can work as an analytics data to retarget them in the future. For people who are not that comfortable with digital transactions, your staff can help them out by filling the info and redeem rewards on the spot. Every transaction will get you invaluable data like time/date of transaction, the amount spent, services availed, and much more. Remember data is the most valuable asset after transactions for business, sometimes even more than the latter.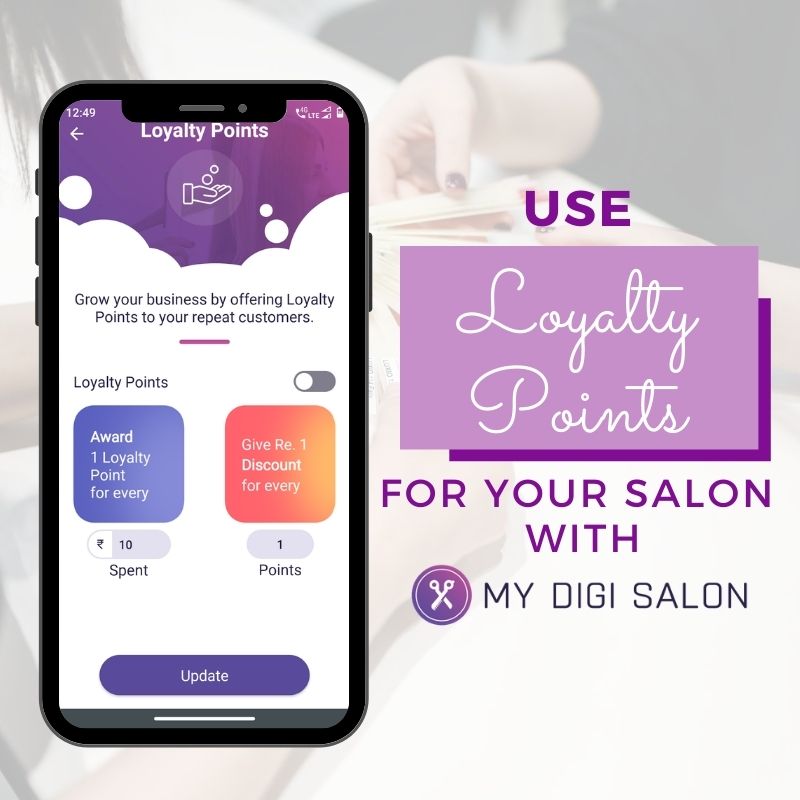 Have Customers Redeem Rewards at Checkout
Engage the customers who have already booked your service once by encouraging them to visit your salon again. Loyalty programs can help you here. From offering exclusive deals and creating benefits to make them feel special, give them a stamp of approval while generating invoices on your salon application. You can even add features like scanning receipts for online appointments for hair salons.
Offer a Personalized Experience
Whenever someone signs up to your loyalty program, they are bound to come back for another service like a massage, or manicure/pedicure etc. just like you want recurring customers, people want to feel appreciated for choosing your services, you need to make them feel valued and important. Only a loyalty program can help you here. Manual work will not work, you need to automate stuff and this is where My Digi salon enters. We can help you create a well-structured customer loyalty program with the help of salon applications.
A Must-Read for all Salon Owners: The Ultimate Guide to Buy Salon Software in 2020
How to Use Loyalty Program Data to your Advantage?
We mentioned that you should go digital, right? Here's why!
Automate
You will gain access to such a wide range of valuable information that you won't be able to get from manual data collection or traditional marketing methods. E.g. you have a bunch of customers that paid you a visit 1 month back. You will have their contact information in the database. Instead of texting them one by one you can automate it. Make a common template and send it to people with similar demographic/ psychographic attributes. E.g. "Hi Sarah, we miss you. Avail 20% off on your next transaction. See you soon:)"
Fun with Gamification
Customers need something fun if you want them to engage them with your loyalty program. Instead of just giving them boring discounts you can gamify the whole journey of your loyalty programs. E.g. scratch and win or Shake & Reveal discounts are some games that your target audience might enjoy even get hooked on. Birthday rewards are also a huge gesture when it comes to engaging with customers. These things are quite noticeable and can surely help your salon stand out amongst your competitors.

Educate your Staff About Your New Program
Employees are the face of your salon as they spend a lot of time having face-to-face interactions with your customers. While they're styling your customer's hair, painting their nails, waxing, etc. these interactions are easy-going so it's not very awkward when your employees ask clients "are you a member of our loyalty program?" and make it sound seamless not 'sales-oriented'.
So you need to make sure that your staff knows how your program works before suggesting any client be apart of it. Train them on how to promote, share the benefits and convenience/ upsell as a part of a beauty salon marketing guide.
To motivate your staff you can incentivize with monetary or your own internal prizes/rewards. e.g free lunch or 10% additional salary for 5 loyalty bookings etc.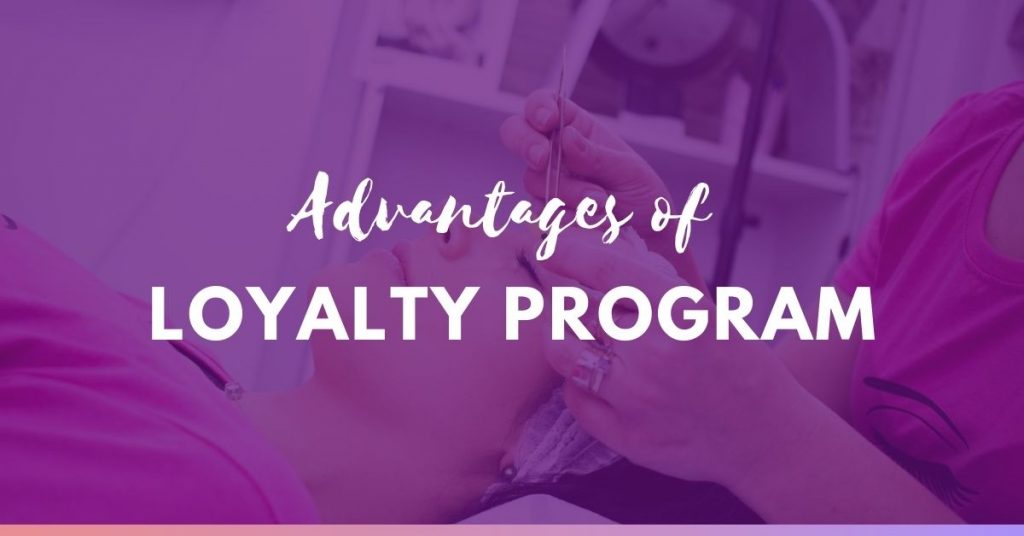 The Benefits of a Salon Loyalty Program
There are tons of reasons why you should start a loyalty program, but our favorite is:
Increased Client Retention: It's easier to acquire new customers, however, salons work well only with retention as your target audience is limited to people within your city limits mostly. This is the reason why client retention is important and salon loyalty programs can help you with that.
Improved Brand Recognition: To make sure that your brand value and business reputation increase gradually or skyrockets overnight will depend on loyalty programs too. Word of mouth still works, trust us.
Attracts New Clients: getting new clients without extra cost is a win-win for everyone. Referral programs + loyalty programs can do wonders in lowering the acquisition cost for your salon.
Increased Client Engagement: customers want to feel more engaged and get personalized treatment when they avail of services. A loyalty program can help you digitalize that communication and ease everything without making it tedious.
Increased Bookings: Increased bookings on slow days you can target loyal clients to get extra discounts on days when your business is usually slow. They will get personalised cheap treatment and you will get good business and more transitions throughout the week.
Easier to Upsell and Cross-Sell: When you are familiar with the clients, it is easier to upsell your services and products because of your understanding.
Increased Revenue: The end goal at the end of the day is to make sure that you generate enough/ maximum revenue to succeed. Loyalty programs can help you ensure that to some extent, you can analyze data. Then act instead of acting irrationally by targeting users that are not even in your target area. It will help you cut down the cost of a lot of things that are not required.
Conclusion
If this article helped you in any way to wrap your head around the basic idea of loyalty programs, we are glad. Believe in yourself and make sure that you think about all the aspects where loyalty programs and digital can go hand in hand to increase revenue and have customers lining up to get booking hair salon appointments.
You will get a good start if you follow all the above-mentioned steps. Please note that trends and new steps are ever emerging in the loyalty program word. We keep on learning with time if we learn how to adapt. If you have doubts or want to learn more about the distal end of loyalty programs, check our website www.mydigisalon.com. We'll be happy to help!