5 Must-Have Apps for Beauty Salon Owners to Build Online Presence
Marketing for salons is a 24×7 process. It is not as easy as it looks, and sometimes there is isn't time to keep on top of every social media platform. Every platform is different, videos work best on Facebook, Instagram demands good pictures, and Tumblr is more of a blogging space, Infographics are in on Pinterest, the list is so long that we can probably finish this article by mentioning them.
While working full time, it gets difficult to work on all the social media channels, and we generally end up posting similar content everywhere. Customers are attracted to new and different content on social media. You have a window of just 2 or 3 seconds to grab their attention.
All this sounds like a lot of work, well it is, not going to lie. Online Salon marketing is not an easy job. However, with the increase in technology and the ongoing advancements, a ton of amazing websites and apps are available, which can help you build and manage your online presence. From planning, designing to the execution of campaigns, these apps for beauty salon owners will make your marketing much more easy.
1. Later: Plan out an impressive Instagram feed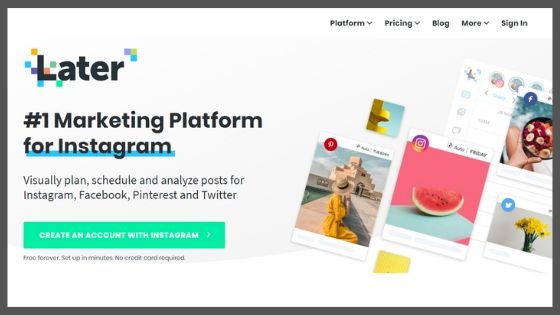 Your salon accounts on the social media platform are an important part of digital presence. However, one platform that stands out when it comes to pictures and brand presence is Instagram. Later is an app that can help you schedule and post pictures on Instagram anywhere. Usually, you have to be on your phone constantly to update Instagram pictures or post captions.
However, Later lets you access multiple Instagram accounts from Desktop, iOS, and Android. You can schedule, edit, post, comment, edit profile, and do a lot more. But the feature that stands out the most is that Later lets you visually plan your feed in advance. With gorgeous themes and pictures that look good together, you can move around your photographs and plan ahead of time. Your page will have a beautiful themed and fantastic looking feed.
Why it's important for your marketing:
Later saves time, as simple as that. It will save you tons of time that you might have wasted on just posting content on Instagram. Apart from taking time out to post daily, you might even forget to post sometimes but later solves this problem. You promote your salon by planning a month in advance with this app for salon owners.
The second reason is that you can build your brand image with the help of visual themes. You can look at all your pictures together and arrange them until they fit well together. This might seem like a small deal. However, these details help create a beautiful, harmonic, and cohesive Instagram feed for your brand. If your Instagram feed is visually appealing, it will help you to gain more followers.
2. My Digi Salon: Marketing Suite for your Salon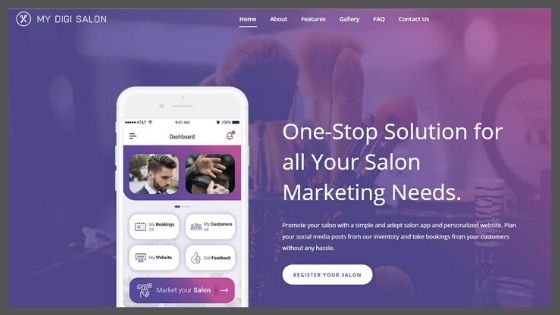 Online presence is not just about social media. Website, online booking features, affiliates, analytics everything comes under it. My Digi salon app is one of perfect apps for beauty salon owners.
All the features you need to market your salon. There are tons of things that you can do with it. Some of the features available are mentioned below:
My Customers:
No need to go for social listening apps or run around to get reviews on different platforms. This feature allows you to manage your customers and their feedback easily from a single platform via My Digi Salon.
My Staff:
Managing staff is monotonous. Tracking their hours, in-time, and out-time daily is necessary. Save time and work on a strategy to improve your business instead of tracking the attendance of your staff. It doesn't matter if you have one employee or dozens, you can manage then with one a single app.
My Bookings:
Keeping track of bookings is one thing you can not sabotage. Imagine if you book the same time for 3 customers in a slot where you can only accommodate 2. However, My Digi Salon app can help you here. This beauty salon marketing app works as a salon booking app and helps you to check your scheduled bookings. You can plan your day or upcoming weeks accordingly.
Personalized Website:
Website is one thing a lot of salons do not focus on. They get worried about the hassle and cost involved. However, with My Digi salon, you get a FREE personalized website. This website can feature all your services, manage your needs and meet your salon marketing requirements.
Marketing Suite:
Social media is a strong presence that can make or break your brand. To acquire new customers and reach your targeted audiences, social media creatives play a vital role. You can choose amazing images from the My Digi salon inventory or get ideas to make your digital platforms better.
Digital Album:
You might have an album of all your work, e.g. client photographs that are unedited and taking a lot of space on your device. You can use our platform to save your pictures in My Digi salon's digital album. It allows you to edit and use these saved pictures as and when required.
Why it's important for your marketing:
My Digi Salon app is one of the best apps for beauty salon owners for all their marketing needs. As mentioned above, it is loaded with great features. Salon owners who are having issues in marketing their salon digitally, My Digi salon is a marketing suite. With pre-defined salon inventory for social media, it is effortless to post on multiple social media channels. Free Website is another plus along with customer feedbacks, appointment bookings, and staff management. All in all, you get a complete salon marketing app.
3. Quik Video Editor: Promote your salon with fast and professional videos
Short videos perform really well on social media, especially on Facebook. But editing them is a headache. Quik is a video editing app for Android and iPhone, which a user-friendly UI. Stitching short clips together, adding music, text, effects, etc. everything can be done on Quik from your phone. Once you are done, you can easily share them on Instagram or Facebook, Easy peasy.
Why it's important for your marketing:
Social media algorithms are designed such that videos get more preference. They are gradually taking over social media. Instagram Stories, IGTV all need videos for engagement. While Instagram still does better with pics; however, on Facebook videos get better reach and engagement. Create fun behind the scenes and interesting videos to promote your salon. Make sure they are short and fun; people will be more interested in your business. These types of apps for beauty salon owners help in attracting new customers.
4. Canva: Create branded graphics for social media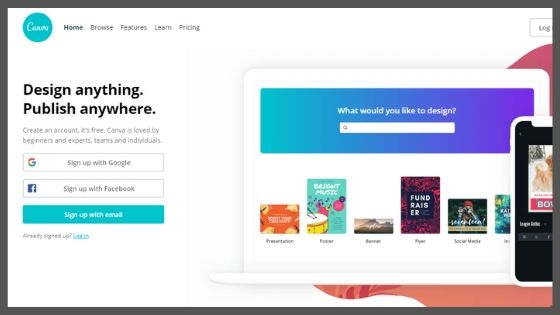 One of the best apps for creating graphics and other salon marketing ideas is Canva. Canva is a mobile and desktop app that is used to create creating graphics of all sorts. From social media posts, website banners, flyers, presentations, videos, you can do anything you want. They have tons of templates that you can use new fonts, elements, colors, etc. You can customize everything according to your brand. You can even upload your own images and videos to use in any given templates or blank pages. Canva is your oyster for creativity.
Why it's important for your marketing:
Graphics are important when it comes to digital presence. But we should be careful that we are not overdoing it. And while posting on social media, we should make sure that all the creatives are branded and follow a theme. Instagram feed full of mismatched creatives will not get you more followers. However, sometimes, images without text are not possible. E.g., if you want to run an offer 60% off. You want to add it in the image and make it look good at the same time instead of blandly writing it in the caption. What do you do? Open Canva, Choose a template, upload the image you want to use along with the salon logo, and download. That's it. Make sure that you have a theme for branding, a color and font palette matching your brand style.
5. Interact: Make fun quizzes to engage your clients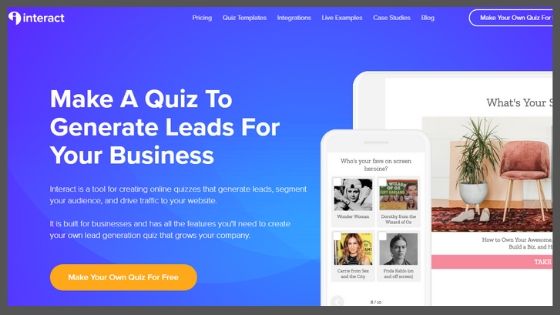 People love interactions but hate surveys. With Interact, you can create your quizzes that your clients will enjoy and, at the same time, will help to promote your services. E.g., if you do nail art or extensions, you can ask, "What's your ideal nail shape?". Or if you do hair coloring, you could make a quiz called "Find your zodiac hair color that matches your personality with this quiz".
Why it's important for your marketing:
If you have ever felt lost on what to post on social media or if the engagement on your page is close to nill, then switch to quizzes. They are fun and a great way to initiate interaction with customers. There are just a few points that you should keep in mind before you incorporate these into your social media plan. They should be easy, entertaining, and engaging. You should include your services instead of directly selling them. E.g., if your quiz tells people about the perfect eyelash extension according to their face, then add a button to buy them from your salon. Customers are more likely to click on the Call to Action button when they are already engaged with your business.
To Conclude
Salon management is a full-time job because you have to manage all the things in real-time. Squeezing in time for thinking about salon promotion ideas is tough task amidst all these problems. However, for more significant impact, digital marketing is important.
Instead of following the long process of manually managing everything, you should invest in beauty salon marketing apps. They will help you in strategizing, and thus you can spend more time focusing on your salon's revenue. Digital presence can help you acquire new customers and improve your brand image. Try some of the apps we have mentioned above for promoting your salon online. From apps, websites, reviews, appointments online, and more, there are so many things that you can manage effortlessly with technology. Why waste resources on things that can be done with just a click? If you do not believe us, then talk to your fellow salon managers who are thriving on social media. You'll find that digital presence is what gives them an edge over their competition. Use the above-mentioned apps for beauty salon owners and trust us; it will be a lot easier to maintain a consistent online presence across all platforms.
Are you using any other app that helps you in your salon marketing? Let us know in the comments section!