Things to Consider Before Opening Salon After Lockdown
Good news for salon owners! Your Salons are now allowed to open for business. However, the bad news is that COVID-19 is still here. Before you thinking of opening salon after lockdown you need to get ready. To be honest, people's hairstyles look funny at the moment. All thanks to the DIY haircuts and hair colors. Salon owners are mostly going to do repair work during the first month. 
From the waiting area, social distancing to gloves, sanitizers and so on, everything needs to be disinfected. There are a lot of things and guidelines that should follow your customer's, your own safety and your salon management. 
Hairdressing requires direct contact, which no doubt increases the risk of spreading COVID-19. Therefore, you need to keep Skin/Surface Contact to a minimum. 
There will be no shortage of business for a while, once people start coming out of their homes. Restrictions have been eased but what do you need to work on to make sure that everyone is safe? Here are 6 Tips for all the salon owners to consider before opening salon after lockdown:
1. Proper Sanitization: 
You need to make sure that you disinfect the whole place before you open your salon. Chairs, floors, seats, pieces of equipment and even the corners where nobody will look. Scrub everything clean. Daily temperature checks for the staff and customers before they enter your salon premises should be mandatory. Only people with normal temperature and no symptoms should be allowed inside. You should spend an extra 15 minutes after each client to enable thorough cleaning
2. Pre-Booking :
It is the need of the hour to work on getting pre salon appointment booking. Online booking will ensure that you are ready for your customers and properly follow the above-mentioned safety measure. My Digi Salon is one such app that can help you here. Along with the pre-booking features, you can send reminders, offers, and promotional notifications to your customers from one place.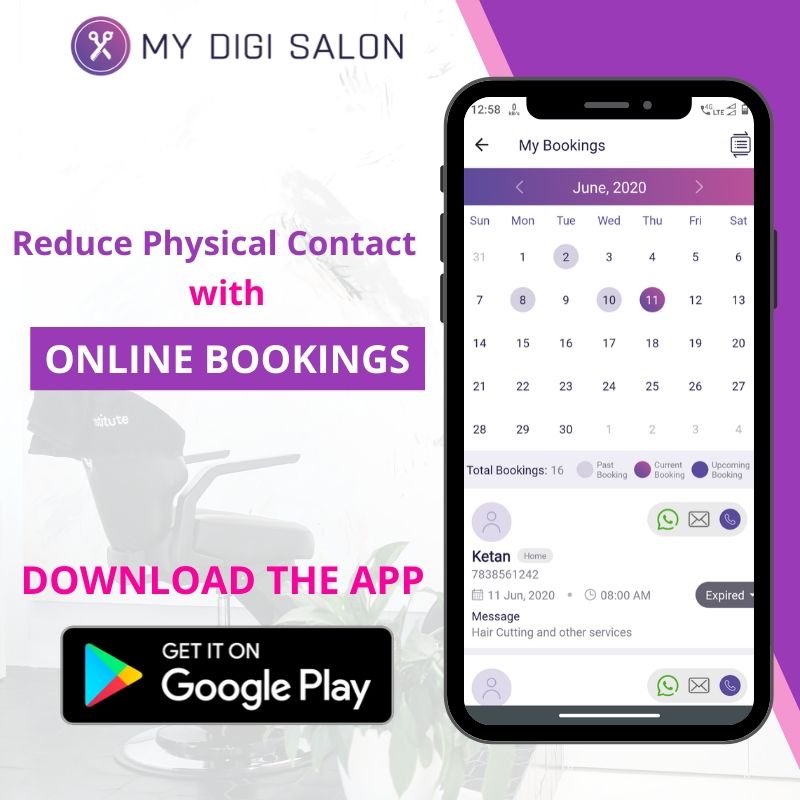 An Important Read: 10 Ways to Increase your Salon Appointment Booking
3. Proper Safety Gears, Customer Sanitization and Say No to Blow Dry:
You need to make sure that all your staff members wear proper safety gears as suggested by the government. These include, but are not limited to: Face masks, gloves, full-sleeved clothes and hair caps. They will ensure that no direct contact is made while working on customers. Hairdressing cloaks must be washed after each use and, if possible, opt for a disposable cloak. For customer safety, ask your customers to wear gloves, masks and full-sleeved clothes, too. Apart from that, you should start using disposable shoe covers (when customers enter your salon) along with sanitizing your gear after every job. Some services like waxing, body massage and blow-dry should be strictly prohibited because it will risk infection and further spreading bacteria to a wider range.
4. Run at a Maximum of 30% Normal Capacity:
Before opening salon after lockdown, consider running your salons at 30% capacity to maintain 1.5 meters distance between everyone. It applies to both customers and your staff. Create a social bubble by asking your staff to come in shifts and do not change these shifts. Your salon management app will come in handy here. Apart from keeping a tab on the number of appointments in a day, you can assign shifts and duties to your staff members from a single place. Isn't that handy? Try Digi Salon now!

5. Ask Customers to Opt for Cashless Transactions
While booking online, ask your customers to pay online too. It will decrease the touch factor by a greater margin. There are a lot of online wallets that offers business/merchant accounts to ensure that you are getting maximum benefits and zero/minimum deduction in case you want to transfer the money to your account directly. Google Pay, Paytm, Freecharge, MobiKwik, BHIM are some online transaction methods that you can look for. For card payments, ask customers to go for one-tap payments.
Try to integrate these payment gateways into your salon booking app. Payment options will increase the chances of customers paying online instead of a card or cash payment. 
6. Remove Magazines, Waiting Area and Food/Drinks Serving
Salons used to work on networking and chit chats with customers, sadly that will not be the case now. In order to maintain hygiene and safety. You need to remove magazines, salon pamphlets, visiting cards etc form your salons and give them to customers only if they ask( after proper sanitization). Only the customers who are getting a haircut should be allowed to enter the salon and absolutely no food or drinks should be served. If you need to communicate with customers to share offers, go virtual. E.g. salon app, SMS, emails etc. 
You can use Promotional SMS to communicate with your customers and let them know about your existing offers.
Difficulties That Everyone Will Face:
Visting a hair salon used to be a relaxing and stressless experience before COVID-19. Not so much now.
Customers will only want to get essential services. 
Staff will face issues like the mask's string will get in the way of cutting hair near the ears, not touching customers face will result in no facial treatments etc, unless you have a PPE kit( just kidding, leave it for the doctors). 
Costs will increase due to additional precautions and hair cut gossip sessions will be non-existent. 
You can't upsell by chit-chatting with customers directly now. "Direct communication" is not permitted – discussion about hairstyle, colour etc must be done via a mirror and kept to a minimum.
Fresh air must be circulated, so that means Air conditioners won't be a good choice. 
Conclusions:
The business will be slow for a while not because of demand but due to regulations. Invest in a good salon marketing solution, and your communication issues will be solved.
Hope this article helped you in getting an idea about how things are going to be for a while, but fret not. We can get through this. Things are going to be a lot different from what they used to be. This is going to be the new normal for a while. Let's hope we get a vaccine soon to fight this virus. Follow precautions and Stay safe, people!