The Ultimate Guide to Buy Salon Software in 2020
Day to day operations in hair salons, parlors, independent stylists, and hairdressers can be managed via scheduling tools to increase efficiency. Modern consumers expect fast and efficient results with choices e.g. web-based offerings, online bookings for salons, apps, payment integrations, etc. 
People rely highly on online reviews and social media/ brand images on social platforms like Facebook, Insta, google reviews, yelp, etc. Automating all the monotonous tasks helps salons manage their backend accounting, efficiently stock products, and generate reports to analyze business success.
Features of Salon Software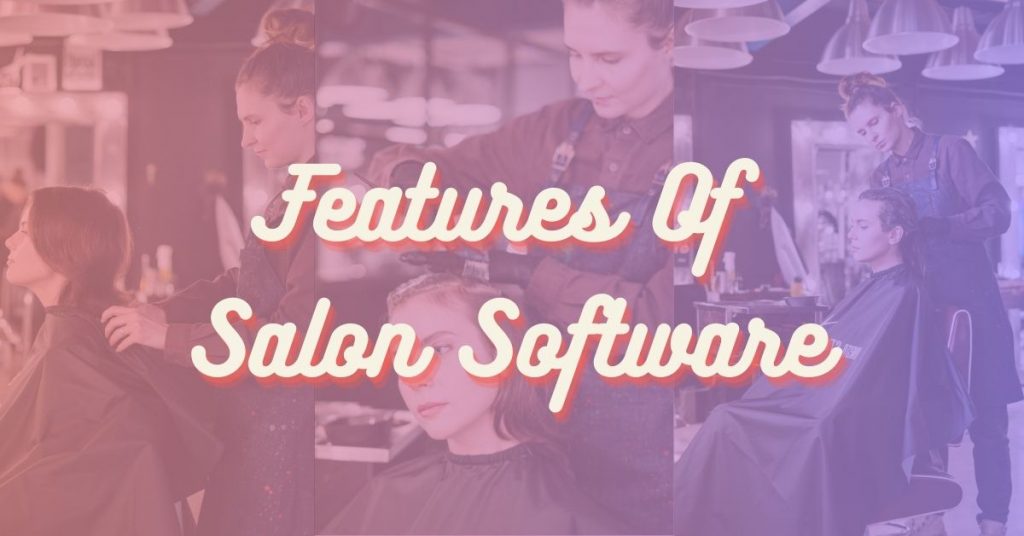 To make a successful entry into salon software, there are some basic features that are a must. Before you jump into investing your money, keep a note of the below- mentioned points:
Scheduling: 
To track a track of all the bookings and manage the schedule of the staff accordingly. Apart from that, you can automate reminder notifications via text or emails for customers to reduce the missed appointments rate. You can even use this to schedule social media posts and campaign information websites with an option to book appointments even from these pages. 
Payment Integration to Increase Sale:
Payment integration is an important aspect when it comes to must-have features. Salons should accept multiple forms of payments like credit cards, wallets, debit, net banking for your products and services. Coupons and loyalty programs for recurring customers. You can even add products and services as add on during checkout in your salon booking app and website. 
Inventory Management: 
To keep a tab on all the hair and beauty products that you sell off the selves, inventory management can help. By keeping a tab you can keep track of what products are running low and order accordingly.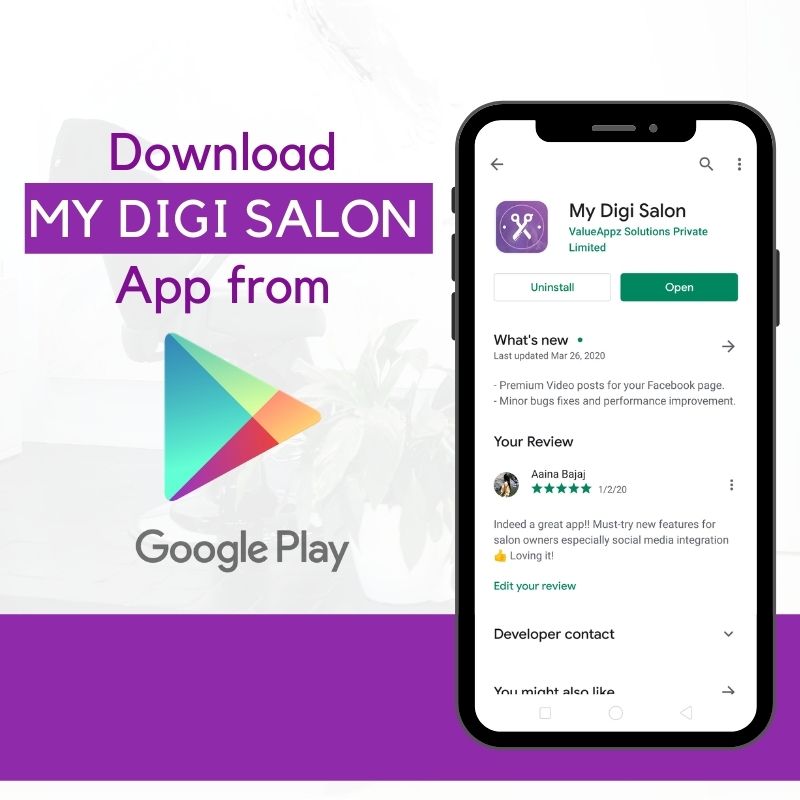 Employee Management: 
You need to streamline and create an efficient schedule to have stylists and hairdressers on staff during peak times. It is also helpful if they have to cover any scheduled appointments. You can track work hours and analyze the performance. 
Customer Management: 
You can keep a track of your client's past appointments, transactions along with their service preferences, psychographic and demographic attributes, etc. all these will help you get an ideal persona for potential customers that you can target.
Salon Point of Sale
POS helps to process payments, upsell products and services, track client transactions, and promotion/campaign management effortlessly. All these things are a part of monotonous everyday tasks. Salon POS systems are more or less like a cash register for salons. It can help analyze what users might be interested in and therefore increase the revenue when people buy additional products. Multiple payment options are an important part of good salons, clients prefer multiple choices and options when it comes to payment. Based on the client's previous purchases SOP pairs items that clients are more likely to buy or might invest be interested in.
Client Database
The ability to store detailed client information like visits, payment details, transactions, emails, phone numbers, types of services availed, an online appointment for salon inclination, location, staff preference, etc. Examples: A recurring customer that gets a haircut every 3 weeks gives the stylist enough room to cut any style that suits the client. Salon software will even allow you to upload before and after pictures of your clients. 
Keep a Tab Open
There are some regular clients that want to keep a balance in their account. It gives them enough flexibility to prepay for services that are surely going to avail in the coming months. It also gives users the freedom to choose more freely, refer their friends, and get everything charged on their account/tab. Salons will have prepaid amounts i.e. advance money and clients get the ease of availing services without payment headaches. Salons can even run a subscription program for these loyal customers.
Gift Cards and Loyalty Rewards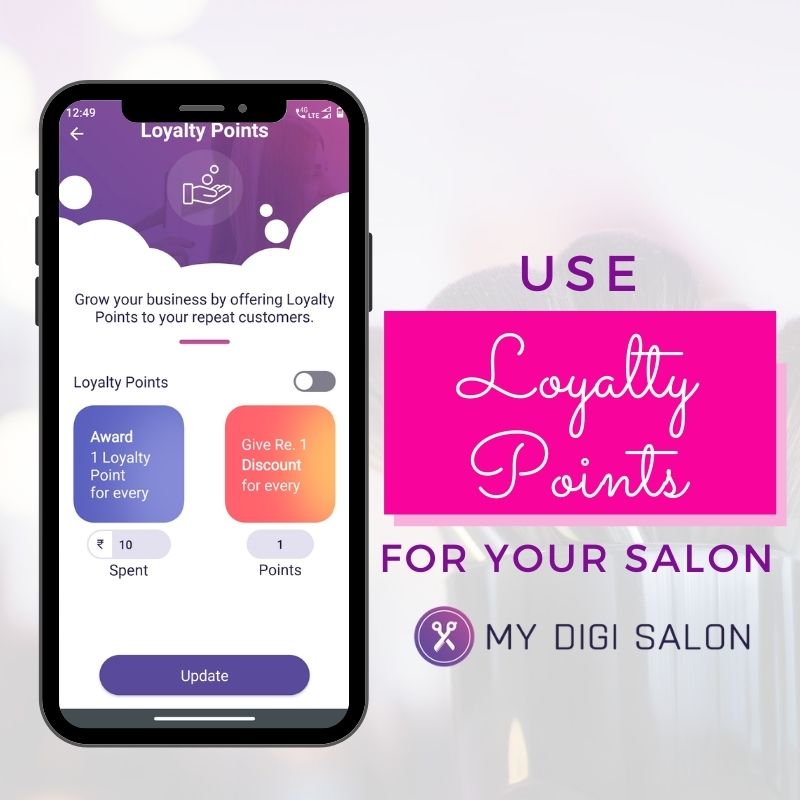 Salon gift cards are basically its own currency that users can only avail of their services and products. Getting new clients is easier than making them come back again. Loyalty rewards like "every 5th haircut will be free" encourages clients to come back. The same is the case when they have a 2000 INR coupon and the haircut is just for 1500 INR. My Digi Salon can help you plan all these things in advance based on your target audience. 
Online Booking with Salon Software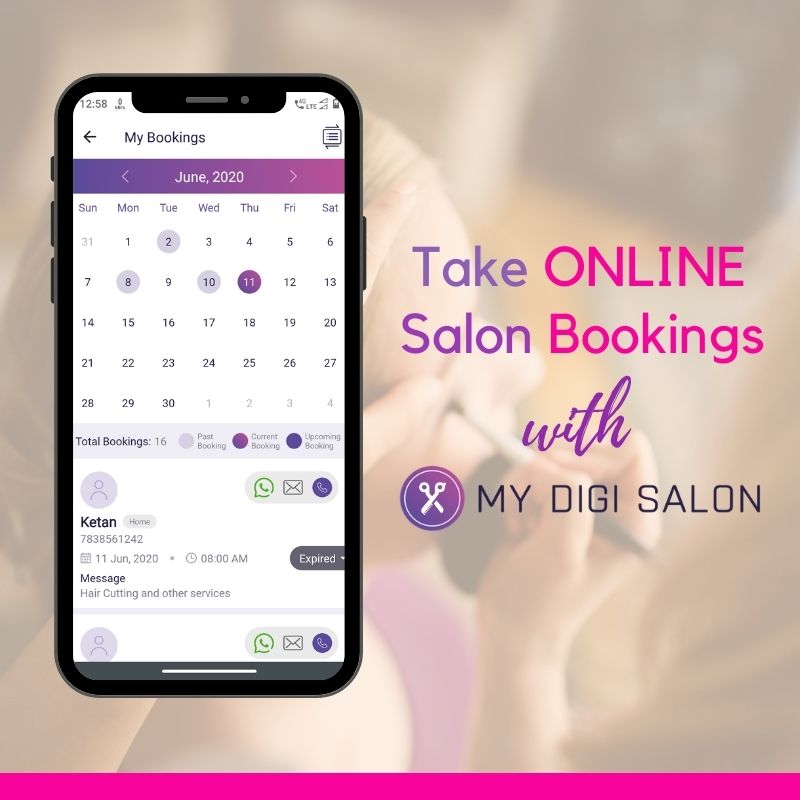 Customers are attracted to ease and flexibility when it comes to availing services. Be it buying a car, online transactions, booking appointments for salon, or ordering food, they want everything online. Directly booking appointments from websites, social media platforms, etc. gives the clients the freedom to book appointments flexibly. Apart from this online booking offers a lot of benefits to the salons over traditional booking because salons can manage easily. 
Customers get the freedom to book 24×7 and your staff doesn't have to answer the phones or wait for it. You can increase your schedule by 30% as cancellations drop quite significantly. This is because it gives customers the choice to adjust appointment times with just a click and without talking to any executive or waiting for confirmation. 
Check Out These 6 Amazing Benefits of Salon Booking Software
Payment Processing with Salon Software
The best salon software gives you the option to integrate and accept payment via credit card along with other online payment options like UPI, Wallets, Net Banking, PayPal, Apple Pay via their mobile phones. During these hard times where social distancing is necessary, people are more inclined towards online transactions instead of Cash. Accepting multiple payments gives your customers plenty of options to choose from. The user experience improves and so does your brand image. Via salon apps and online accounts, you can even keep payment info on file that helps in quicker payments for the next transactions. You can add the option to add additional charges for cancellations and no shows with the salon application.
What Fees Should My Salon Expect?
You need to agree with a software vendor due to which payment processing is usually an additional cost. Generally, a 2 to 5% charge for each transaction is paid to the processor. My Digi Salon can help you learn how to maintain relationships with payment processors to get discounts and the best hardware compatible with their gateways. My Digi Salon can help you accept multiple payment methods.
What Type of Salon Software Do You Need?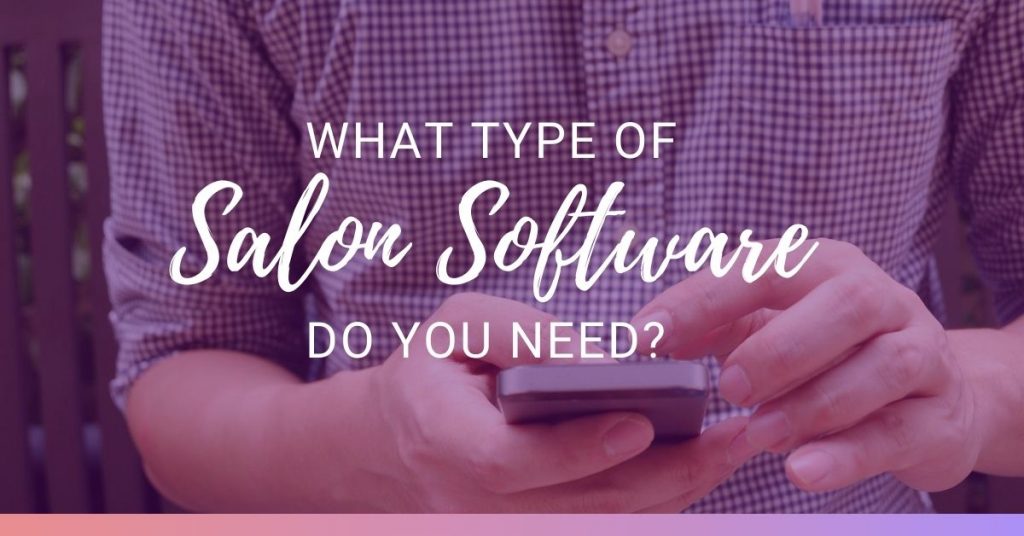 The salon size greatly affects the salon booking software that we should opt for. The most important questions that you need to ask while selecting any software to get a robust solution are: 
The number of stylists you have on your team.
How many people should have access to the software?
What level of automation is required?
Do you need a hair salon application?
Are Credit card processing and other gateway integration required?
Platform Renter
If you believe that you are a one-man show and do not need a salon app however you want to give an online booking system try you can try My Digi Salon app.  This comes under the platform renter business, you can check all the pricing on our website www.mydigisalon.com. You can get a free trial of 10 days. It is a simple low-cost monthly basis option that can save large expenses. You can have your salon listed for online bookings, integrate social media, schedule posts, and track revenue from just one place. 
Small Salon
For Small salons, online scheduling, automated reminders, inventory tracking, and managing a staff of not more than 5 people can be streamlined with My Digi Salons. You can double your revenue by cutting down on monotonous tasks such as keeping a manual track of appointments, your staff being on call all the time, canceled booking, etc. Moreover, you will also need to store data and my Digi salon helps you maintain it without any additional server cost. You can analyze your customer behavior based on past experiences and upsell or retarget potential customers. 
If the customers get access to online booking for your salon with multiple payment options and social media presence from their mobile devices, it will help uplift your salon brand image. A strong online presence is needed to Increase your revenue and you can do that easily by investing in My Digi salon today.
Mid-sized to Large Salon
When it comes to high scale hair salons, the appointment booking system is necessary. It requires a lot of manual labor to complete inventory tracking, scheduling, and other work traditionally. Reporting and scheduling the shifts for staff is the most important task for managers and salon owners. In order to optimize that, My Digi salon can help these larger salons by helping them decrease the monotonous tasks, streamline the process, automate communication and schedule postings. You can do everything from one single place without any hassle. Large salons already have a brand image to maintain and they can not take any risk. So it is recommended to prepare everything beforehand for maximum client satisfaction. Salon software will help you maintain the service quality across all your branches as your staff will be more focused on work rather than back-office monotonous daily tasks. 

Conclusion:
There's no hard and fast rule to successful salon business, however, hair salon appointments bookings, scheduling content and digitizing tasks can help you increase your chances. To know more about the services you can avail on My Digi salon visit our website https://www.mydigisalon.com/, a complete salon booking management app.